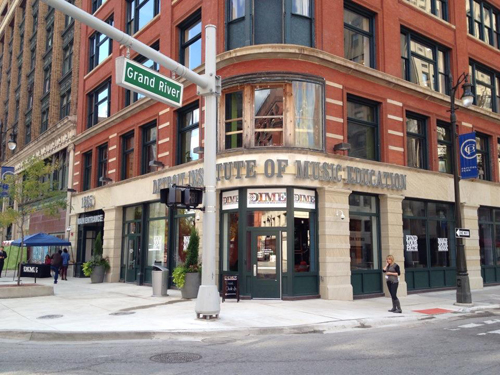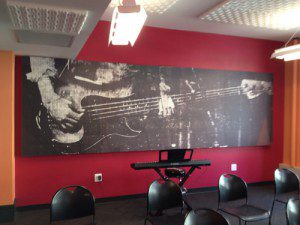 If you're a music lover, then there is cause for great celebration with the opening of the Detroit Institute of Music Education, a fab music college and so much more at its permanent location at 1265 Griswold St. in downtown Detroit.
The site inside what locals called the former Bamlet Building will house the college, which has more than 20,000 square feet of classroom and performance space. It has been fully outfitted with state-of-the-art music equipment and sound design, placing it among the finest music spaces in the United States.
That's no exaggeration – the three founders had been looking for a place to install their music college for years when a trip to Detroit solved their dilemma. Right away, they realized that Motown – the birthplace of so many important musicians and musical movements – would be an ideal fit for what they hoped to do with their new location.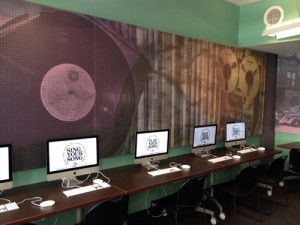 Some background: DIME was founded by music industry and music-education veterans Kevin Nixon, Sarah Clayman and Bruce Dickinson. Their collective goal is to give advanced music students a "college-style experience" in contemporary music with expert musicians on staff and industry professionals all around.
It is located in Detroit's Capitol Park area, which was due for an investment explosion. The block and the building looks great already (we did a visit during a media preview recently). The façade with its new sign is colorful, fun and full of life. Having the name on the building makes the whole block look like something out of New York City, but in a very Detroit way.
The interior is colorful yet tasteful. There are rooms full of computers, performance spaces and interesting instruments. The day I visited, there were performances going on all over the place, and I felt inspired just hearing the great songs being practiced there. It means more people coming to the city to learn a skill outside of the automotive business, and that's always a good thing. (We love cars, natch. But we need diversity, and music is a mighty nice option.)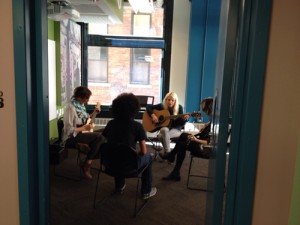 A little on the Bamlet building. Joseph Bamlet acquired the lot somewhere around 1897 or so for a roadhouse, serving travelers who needed lodging. Then, it was turned into a tavern. Other folks have used it since then, including dentists, optometrist and a business college.
Best of all, having DIME there means new life for another part of Detroit. Urban Bean  coffee house is  next door, ensuring that no one falls asleep after a late-night gig, the popular Cafe D'Mongos is just down the street, and other businesses are likely to follow suit.
"Without question, the raw talent in Detroit is the highest level we have seen to date," said Nixon, DIME's president, in a statement. "The challenges that Detroit is now rapidly overcoming means that we are taking a long-term view on bringing the new DIME building to capacity, and in the process we hope that Capitol Park will become the new hub of Detroit's widespread and fantastic musical community."
There are classes in guitar, bass, vocals, drums, songwriting and music entrepreneurship. Prospective students earn a bachelor's degree or diploma in Creative Music Performance, Creative Songwriting or innovation in Music Entrepreneurship.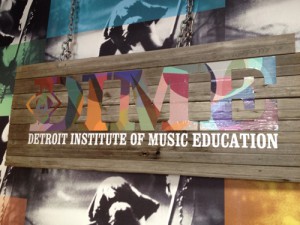 This is the fifth location for the powerful music trio of Nixon, Clayman and Dickinson. They started this college life in England in 2001, and nearly 10,000 graduates have come through their college since then. And more than 70 percent of its students have full-time music related careers. Some are rock and rollers, but others are music lawyers, label employees and managers.
Visitors of all stripes are welcome to use the facility for a variety of purposes. There will be DIME's retail guitar strings and vinyl record shops. Plus, there will be weekly performances at DIME's 300-person live venue, [email protected]
Prospective students can sign up by contacting the admissions office at 313-223-1600 or visiting its website. Recruitment takes place year around, officials said.