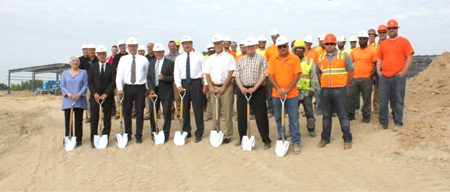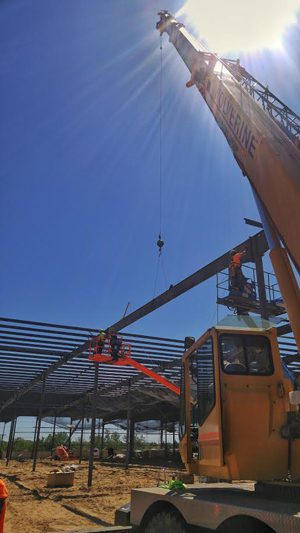 Baking even a small batch of goodies takes time, effort and, most importantly, the precise amount of ingredients. If you don't measure well or have the best ingredients on hand, you won't have success.
That is where Hearthside Bakery recently found itself, and it knew it had to grow to keep making its beloved baked goods. To that end, Wolverine Building Group broke ground breaking recently with Robert Grooters Development for Hearthside Bakery's new $7 million, 300,000 square foot addition in Kentwood, Mich.
Hearthside Bakery is one of the world's largest contract food manufacturers with 24 facilities in the United States and Europe specializing in snack bars, cookies, crackers, pretzels, croutons, breadcrumbs, and other baked goods.
For some time, Hearthside Bakery had limited storage space. They store raw ingredients in 53' semi-trailers at off-site locations around Michigan. After considering the cost of the trailers, the many FDA standards, regulations and temperature control requirements of the raw ingredients, the cost of managing the fleet of trucks, fuel, employment of drivers, logistics managers and other costs of owning, moving and transporting trailers, Hearthside Bakery's management team realized an addition was the answer.
To help it solve this challenge, Hearthside Bakery hired Wolverine Building Group and Robert Grooters Development to design and build a cost efficient building for all their storage needs. The new addition will be owned by Robert Grooters Development and leased to Hearthside Bakery.
Housing all of Hearthside's raw ingredients in one location will drive more efficiency into their daily operations. Mike Kelly, Chairman of Wolverine Building Group said everyone is excited about this project and its impact.

"This new addition will pay for itself in short order. Furthermore, the hassle of maintaining the FDA regulations on multiple trailers rather than just one building will free up other significant valuable resources," Kelly said.
Robert Grooters Development Company has been providing West Michigan with cost-effective manufacturing, warehouse, and office space for over 40 years. It has developed more than 22 million square feet, with more than 600,000 square feet currently under construction. Some notable projects include the Union Station facilities along US-131, the 17-story high-rise office building in downtown Grand Rapids known as Bridgewater Place, and our latest project – Area 52 – the 1 million square foot industrial park located next to the Gerald R. Ford Airport.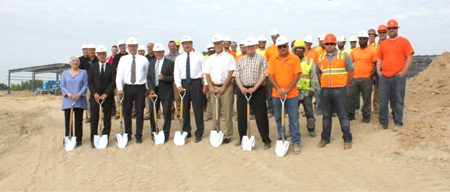 Wolverine Building Group is a diverse construction company, consisting of several specialized teams serving markets such as industrial and manufacturing, health care, educational, multi-unit residential, retail, restaurant, commercial office, municipal and sports & recreation. With 78 years of experience in construction management, design build, and general contracting, Wolverine Building Group has become nationally recognized as one of the top leaders in the construction industry.