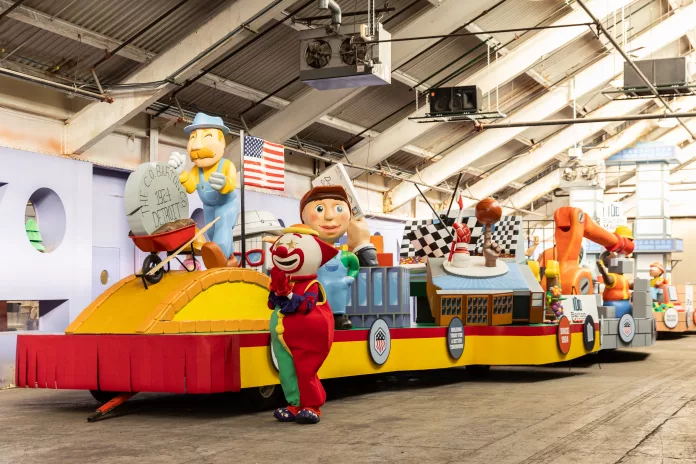 DETROIT – The Parade Company and Barton Malow unveiled a new float, "Building Today for a Better Tomorrow," at The Parade Company's Annual Pancake Breakfast presented by Blue Cross Blue Shield of Michigan, which was attended by hundreds of business and community leaders.
The new float will make its debut in America's Thanksgiving Parade presented by Gardner White.
"Barton Malow is an incredible company, and we are thrilled to have them join America's Thanksgiving Parade presented by Gardner White," said Tony Michaels, President and CEO, The Parade Company. "Barton Malow's dedication to our city and communities across the country shines through in their remarkable projects. We are honored to help kick off their 100th anniversary with a new float on Woodward Avenue Thanksgiving morning."
Barton Malow President and CEO Ryan Maibach said "it's an exciting time to be at Barton Malow as we get ready to kick off our centennial celebration."
"Part of this celebration is honoring our history and heritage while looking ahead to our future," Maibach said. "The float represents the diversity of work that we do across North America and the tremendous accomplishments of our 3,500+ team members."
"Building Today for a Better Tomorrow" pays tribute to Barton Malow's history, highlights their diverse project portfolio, and honors the men and women in the skilled trades. The float will make its debut down Woodward Avenue on Thanksgiving morning, passing Barton Malow's original headquarters and many buildings that they've had a role in constructing, including Little Caesars Arena, Shinola Hotel, and the Hudson's site development project.
Designed and built by The Parade Company artists, "Building Today for a Better Tomorrow" is over 100 feet long and the highest point is 28 feet high. The float features their iconic local and national projects, including the Detroit Post Office, Pittsburgh Children's Hospital, Camden Yards (home of the Baltimore Orioles), Little Caesars Arena, Ultium Cells, Daytona International Speedway, and the Hudson's site development project.
At the front of the float is a replica of the original 1924 C.O. Barton Concrete stamp, which was used on some of the first projects that Barton Malow built in Detroit. On the float is a cement truck that spins and is approximately one-third the size of a real cement truck. The float features enough hand-sculpted and painted bricks to cover a 1,500-square-foot home. It also features race flags spinning in circles, signaling an exciting race finish at the Daytona International Speedway.
The back of the float showcases Barton Malow's industry-transforming technology, LIFTbuild, which was recently used to complete the Exchange Building in Greektown. The entire building will tip backward to go under the People Mover on Parade Day.
Voted as America's Number One Holiday Parade by USA TODAY, America's Thanksgiving Parade® presented by Gardner White takes place on Thursday, November 23. This year's Parade theme is "A Heart of History."
WDIV-Local 4's live coverage begins at 6 a.m. with pre-parade coverage, followed by a parade pre-show beginning at 9 a.m. America's Thanksgiving Parade presented by Gardner White will air live on WDIV-Local 4 from 10 a.m. – noon, including a one-hour syndicated national broadcast from 10 a.m. -11 a.m. reaching more than 185 television markets across the country. 760 WJR and Audacy WOMC 104.3 also broadcast parade shows.