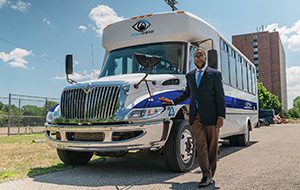 DETROIT — Beginning Sept. 1, an estimated 40,000 homebound Detroit residents and other underserved populations in Metro Detroit will have access to low-cost, high-quality eye care through Eye Care For Detroit Inc., a new not-for-profit, and its eyewear partnership with Eyeglasses.com, an international eyeglasses company.
The partnership will qualify Eye Care For Detroit patients for reduced-cost frame options through Eyeglasses.com As an homage to Detroit and its founding on July 24, 1701, eyeglass frames will be available for $17 or a 17.01% discount sitewide for the foreseeable future.
"Thousands of Detroit residents are at risk of preventable and treatable eye diseases due to a lack of access to care and affordable options," said Cleamon Moorer Jr., DBA, founding executive director of Eye Care For Detroit. "Those with poor vision are more likely to experience falls, social isolation and decreased independence. Our organization aims to eliminate the barriers and to make eye care more accessible for at-risk, aging and marginalized populations. This incredible partnership with Eyeglasses.com will make the eyewear portion of care much more affordable."
Founder and CEO of Eyeglasses.com Mark Agnew stepped up to provide reduced pricing on eyewear for Detroiters along with over 120 frames as samples from which patients can choose.
"When I heard about the mission of Eye Care For Detroit, I knew instantly I wanted to get involved," said Mark Agnew, founder and CEO of Eyeglasses.com "After sustaining a life-changing injury that left me permanently blinded in one eye and realizing just how expensive eye care can be, I decided to dedicate my life's work to finding easier and less costly ways to purchase eyeglasses. This collaboration is one more way Eyeglasses.com can help make affordable eye care a reality for Detroit residents."
Eye Care For Detroit is assembling a network of licensed eye care professionals, specialists and primary care physicians to provide accessible care that will be offered through several modes:
Telehealth — virtual eye appointments through Eye Care For Detroit's network.
In-home visits — by providers equipped to perform exams and procedures inside patients' homes using portable ophthalmologic equipment.
Mobile clinic — equipped for participating optometrists and ophthalmologists to perform routine eye exams at patients' residences.
Shuttle service — non-emergency transportation to eye care appointments.
Eye Care For Detroit is developing a mobile app that will allow patients, their families or caregivers to schedule eye appointments with participating health care providers. A prototype of the app won the TechTown Detroit Start Studio MVP People's Choice Award during Demo Day 2022.
Moorer said Eye Care For Detroit is working to secure additional individual and corporate donations as well as public and private grants that will help fund:
Recruitment and training of community health navigators (Detroit residents).
Resident vouchers for eye care-related expenses, i.e., prescriptions and transportation.
Continued development and maintenance of the Eye Care For Detroit app.
An automated referral tracking system compliant with federal law restricting the release of medical information.
Equipment and maintenance for a shuttle system to transport patients and mobile clinics.
"We want to break down as many … barriers as possible," said Moorer. "We encourage others to join this effort to play a more active role in creating change for the underserved in our community. I care, you care, we all need to care for the eye care of Detroit."
More information is at www.EyeCareForDetroit.org.