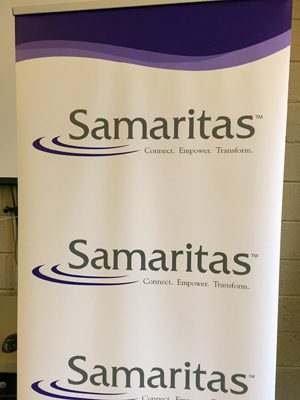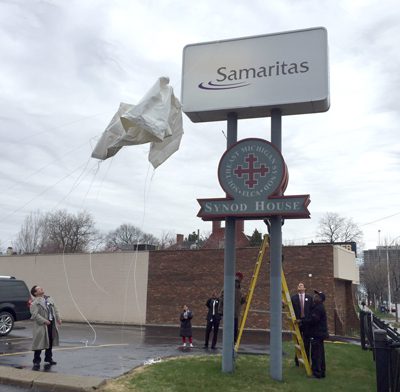 When a company sees an issue with its brand, acting swiftly and decisively should be a basic response. After all, you want your potential clients and current customers to know who you are and what you stand for whenever they see your logo or slogan.
Lutheran Social Services of Michigan understood that and is a prime example of how a non-profit organization responds to a critical brand challenge. Although it was proud of its name, history and mission, leaders at the health-and-human services organization knew that there was some confusion around its name.
To focus on clarity and to engage all of its users, LSSM recently changed its name to Samaritas and introduced a new brand identity. Its new brand has a purple and gray logo with a ripple icon. It also added the tagline, "Connect. Empower. Transform."
In an official rebranding in April, Samaritas employees and leadership gathered to unveil a new sign and talk about the naming, its continued mission and its goals as an organization. Nearly 100 people came together at its Detroit location on Jefferson for the event. (The organization serves communities across the state with bases in Detroit, Grand Rapids, Lansing, Kalamazoo, Saginaw and Traverse City.)
Sam Beals, Samaritas CEO, told the crowd that although the organization is still aligned with the Lutheran faith – just like it has been for about 80 years – people did not seek the group out as an employer or service provider. They thought they had to be Lutheran to work with LSSM, he noted.
"(We) have been hiring and serving people from all faiths, ethnicities, life stages and lifestyles for generations," Beals said.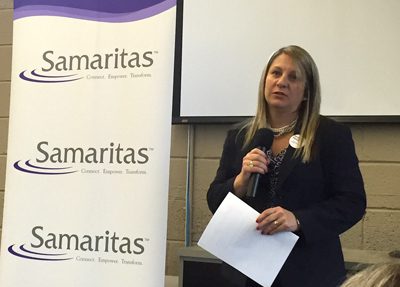 Among its services are: resettlement for new Americans, adoption and foster care for children, and at-home services and residential communities for seniors and persons with disabilities, including assisted living, skilled nursing and memory care. Estate-quality and affordable living residential communities also are available from Samaritas for independent seniors as well as property management services for third-party affordable living communities.
The new name came about after months of discussion and research, organizers said. Samaritas is a reference to being a good Samaritan, or a compassionate and helpful person. It was selected because it reflects the people who work there and its overall mission to serve the community as an expression of love and faith.
The color purple was selected because it means dignity and it is a mix of blue (trust) and red (passion). Trust and passion were two attributes that described LSSM throughout the rebranding process, which included employees, people who received services, pastors and members of the media.
"Our new name connects the care giver with the cared for," said Vickie Thompson-Sandy, president of Samaritas.