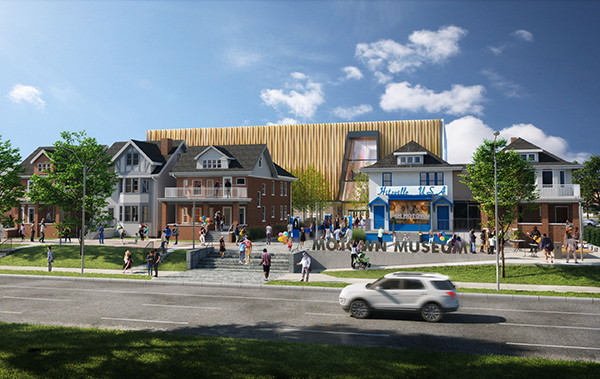 DETROIT — Motown Museum announced the beginning of construction of phase three of its highly anticipated expansion, sharing new renderings of the nearly 40,000 square foot space that will house interactive exhibits, the Ford Motor Company Theater, an expanded retail experience and more, all to be built behind the iconic Hitsville U.S.A. building and nearby Motown-era homes.
When completed, the new museum campus will have a transformative impact on the surrounding Detroit neighborhoods, providing employment, sustainability, and community pride by serving as an important catalyst for new investment and additional tourism in the historic area.
"After a successful event to welcome guests back to the museum and celebrate the completion of phases one and two of our expansion, we are thrilled to share the new renderings for our third and final expansion phase," said Robin Terry, Motown Museum Chairwoman and CEO. "This new space will create jobs in our local community and drive additional tourism to Detroit and the State of Michigan as Motown fans from around the globe can interact with the Motown story through one-of-a-kind interactive experiences. The expansion will allow us to share the often untold stories of those who helped build the Motown legacy and create memorable opportunities for fans to interact with their favorite artists in new ways."
The newly released renderings of the third and final phase of the $55 million expansion offer a fresh look at the final phase of the museum's expansion plans. The museum released its latest funding milestone in August, with the campaign reaching $43 million raised following an announcement of $5 million from Rocket Companies and the Gilbert Family Foundation. The expansion design is led by the North Carolina practice of global architecture and design firm Perkins&Will.
"As we've immersed ourselves in the history of Motown, the design evolved to tell an even more compelling story that the expanded museum will share with the world," said Zena Howard, Principal and Global Cultural & Civic Practice Chair, Perkins&Will. "The gold exterior of the expansion is a celebration of the many Motown accomplishments. It provides an elegant backdrop to Hitsville USA, complementing a story of Motown's humble beginnings and its world shaping impact. This design is a way of telling the Motown story through architecture."
Recently completed phase one of the expansion—Hitsville NEXT—offers a signature slate of impactful, community-focused programs, workshops and events designed to activate and inspire future generations of creatives, artists and entrepreneurs. Headquartered within three historic, Motown-era buildings at 2654-2658 W. Grand Boulevard—previously owned by Motown Records—Hitsville NEXT now features professional recording pods, community activation space and premier programming to foster emerging talent. Programs featured in the Hitsville NEXT line up include its spoken word competition Motown Mic, Amplify, a singing competition, The Lyric Project songwriting workshop and its Ignite and Spark summer camps.
Phase two, named Rocket Plaza, serves as a welcome destination for museum visitors, meant to inspire joy and creative collaboration with regularly activated performances by local talent and unique opportunities for emerging entrepreneurs. Inspired by a time when young Motown acts like Smokey Robinson and the Miracles, the Supremes, The Temptations, The Four Tops and so many others, would hang out in front of Motown's headquarters, the plaza will serve as the ultimate Motown-inspired community gathering space. Museum visitors arrive at a beautifully lit granite paver expanse, surrounded by colorful flowers, lush plantings, park benches and a pop-up performance stage surrounded by a sound system playing their favorite Motown hits. Hitsville NEXT and Rocket Plaza were designed by Detroit-based architectural firm Hamilton Anderson & Associates.
For more information, please visit www.motownmuseum.org.