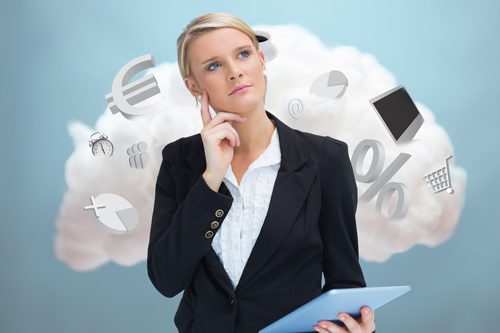 Everyone feels "busy" these days, and the working hours seem to fly by when you've got a big to-do list on your desk. So if you've got a major project to tackle, Tuesday might be your best bet for getting it done.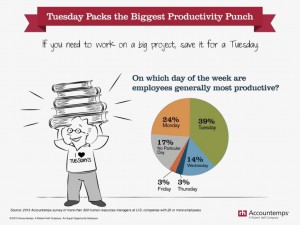 An Accountemps survey shows that 39 percent of human-resource managers say that their employees are most productive on Tuesdays, said Robin Ankton, a regional manager for first and largest specialized temp agency for accounting, finance and bookkeeping professionals.
Tuesday has held the top spot in Accountemps's productivity surveys for the past two decades, Ankton noted. Not surprisingly, Thursday and Friday tied with 3 percent each for the least productive days of the work week – maybe because workers are busy planning their weekends instead of finishing up paperwork.
"Monday is typically a catch-up day. That day is the one people use to get the week planned. Thursday and Friday, everyone is looking forward to gliding into the weekend. That leaves Tuesday and Wednesday," said Ankton.
Looking for ways to be more productive, no matter what day of the week? Ankton has these suggestions:
1.    Ax the list. Look, we all get optimistic about how much we can achieve. But if you focus on your top priorities, you'll have a better chance of getting everything you hoped for done, Ankton said. "Be realistic, and reprioritize," she said.
2.    Study your patterns. If you find that Tuesday is your best day, schedule your toughest jobs for that day of the week. Those days that you're not as focused, plan on doing little jobs that don't require huge mental power.
3.    Dodge the distractions. Turn off the "PING!" noise that goes off every time you get an email. Turn off the ringer on your cell phone. Avoid everything that pulls you away from the task at hand, Ankton said. "The more you can avoid those items, the more productive you'll be," she said. Another idea: Unsubscribe from all of those email lists you've found yourself on over the years.
4.    Take a break. The longer you work, the more distracted you'll become. So schedule in times to relax for a moment and get your focus back. "You can only work for so many hours straight," Ankton said. If you're going on vacation, let a supervisor or co-worker know what really needs to get done while you're gone so the reactivation time upon your return isn't as severe.
5.    Embrace slow times. If you know there will be a lull, do something minor like clearing your desk of clutter. The day before a major holiday break are particularly good times to get organized. "Take that time to really organizer yourself so when you come back you're really productive," Ankton said.