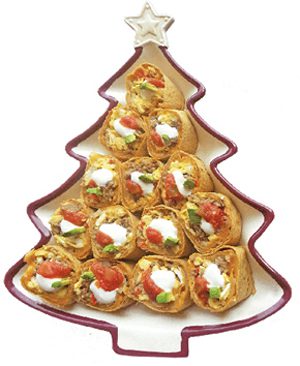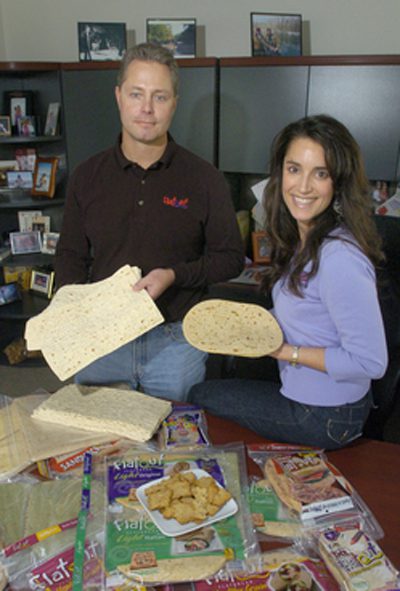 Flatout bread can be found in hundreds of supermarkets nationwide – but did you know that it is made here in Saline?
That's right – one of the most successful "flat" breads comes from Michigan, where Mike and Stacey Marsh are constantly adding products, hiring new employees and building onto their wholesale baking facilities on Woodland Drive.
"It's all made in Saline, and we're proud to be here," says Senior Vice President of Marketing Bob Pallotta. "All of our breads are low in calorie, high in fiber and a good source of protein. They're easy, convenient and great with recipes. … It's true that the whole family loves it. We like to say it's better than sliced bread."
Flatout creates, produces and markets premium flatbreads and is now one of the region's largest food manufacturers, with sandwich wrap products sold in major grocery store chains across the country.  With a five-year average gross sales growth exceeding 14.2 percent, the company redefine the way consumers think about bread.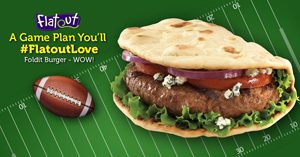 From wraps to Foldit "hinged" sandwich bread (Mike Marsh calls it "a better hamburger bun with a backstop" to catch falling condiments) to pizza crusts and more, continuous new product development is a core part of Flatout, which see flatbread as a blank canvas with seemingly endless meal possibilities and a tasty, healthier alternative to traditional bread, Pallotta said.
The Marshes didn't start out with plans to create one of the most popular sandwich breads; they were longtime foodies who were looking for a business when they graduated from Michigan State University. They began with a sandwich shop in Ann Arbor in the early 1990s, eventually growing to three shops in the university town.
There, they became fans of a flatbread wrap made locally by a family business. The product, made by an Armenian couple, came in like a cracker and had to be soaked overnight to make wraps the next day. But they knew if they were to grow into a larger chain or consider franchising, they needed a product that could be shipped anywhere they were.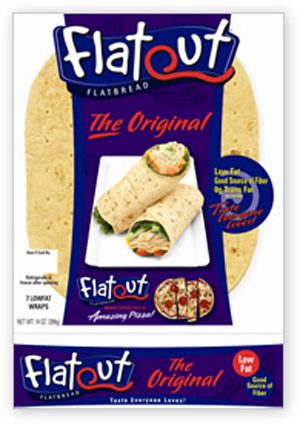 They started to experiment with recipes. In 1995, the couple purchased some equipment from a large manufacturer and tried their hand at making bread. Within four years, they had a recipe perfected and were selling the product to about 1,000 McDonald's restaurants in Canada.
"Before we knew it, we were the proud owners of a used 100-foot bakery manufacturing line and thousands of pounds of industrial parts including motors, belts, and die cut molds. You name it, we had it," Stacey Marsh says.
So much for the sandwich shop. Three years of baking, tasting and experimenting ended up with a product the Marshes were proud to serve their customers. "After three years in the deli business, they thought maybe being a baker would be more fun," Pallotta jokes.
They focused on Flatout exclusively, putting the brand in front of retailers. These days, a dozen varieties of Flatout products are found across the nation, selling everywhere from Kroger to Meijer to Walmart. They have grown from just the two of them to more than 100 employees and plans to expand their facilities again in 2015.
Next on their horizon is products with "ancient grains," such as chia seeds and other health-conscious ingredients, Pallotta says.
"We're trying to be healthier than other products out there. We really want to respond to what customers want, like a tasty gluten-free bread," Pallotta says.