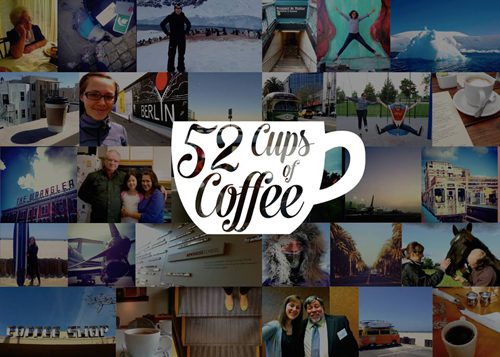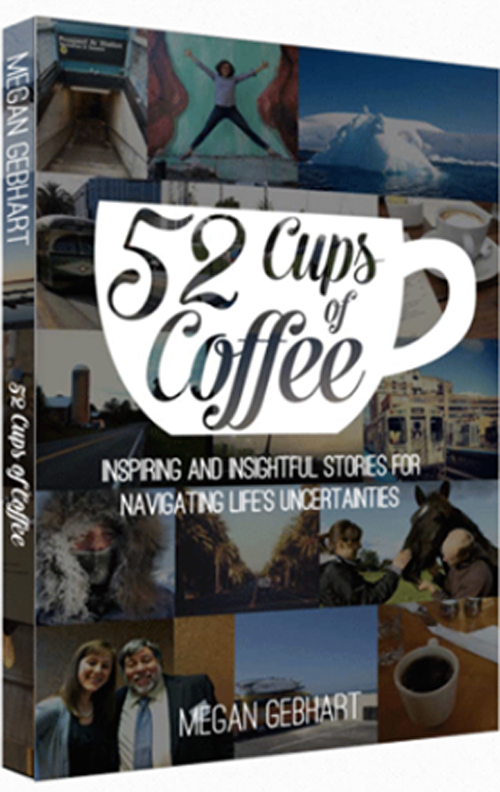 From the dedication on Megan Gebhart's new book, "52 Cups of Coffee," you know you're in for something saucy and different.
"Dedicated to my parents," the Michigan State University grad writes, "for trusting me to talk to strangers."
Gebhart started a stellar journey in 2010. That is when the MSU senior decided to challenge herself based on a quote she read. It went something like this: "Who you are in five years depends on the people you meet and the books you read."
She was still pondering those words when she met with a fellow student named Brett, who it turns out was a kindred spirit. Realizing how important that one coffee get-together with him was – it created a long-term friendship – Gebhart decided to push it a little further. What if she went to coffee with a whole bunch of people to see what happened?
So she created a website and called it "52 Cups." She began setting up meetings with friends in and around East Lansing, never knowing where her next cuppa joe would take her. The result was a year-long adventure that brought her into conversations with everyone from legendary MSU basketball coach Tom Izzo to Detroit restaurateur Torya (Blanchard) Schoeniger and Apple co-founder Steve Wozniak, just to name a few.
Every meeting resulted in a blog post. Each blog post had a life lesson snuck in there. These little tidbits could be simple – for instance, "Life isn't always beautiful." Some could be major league, like "Be a part of something bigger than yourself." Some could be inspirational, such as "When you follow your passion, the future is always exciting."
The book, according to Gebhart, "is a compilation of 52 conversations I had in 29 cities across 7 countries during my senior year of college. The book includes profiles of Steve Wozniak, Seth Godin, and Tom Izzo along with unexpected stories from a dairy farmer, first-grader, WWII survivor, and so many more."
To have each of these blog posts in one book is amazing. I followed Gebhart's journey with interest because I loved the idea of meeting new people. As a natural introvert, pushing myself out there isn't my strong suit – I got into journalism in high school because I wanted to break out of my shell. Here was a young college student doing something I found challenging – and writing these terrific blogs about each one.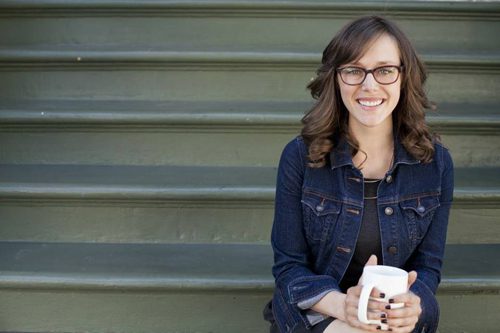 Seeing each one linked through chapters brings the project into a larger focus. Gebhart got one stunning amount of advice in those 52 cups of coffee. For the price of dinner and a movie (granted, a nice dinner), she got a lifetime of good ideas. She received a huge amount of short cuts to creating a well-rounded existence. She got her investment back and then some.
It may be tempting to read only a few chapters in her book – say, of the famous people. Or of the people you know yourself. But I found that rereading each one reminded me not only of where I was when I initially read it, but where I am now and where I want to be. It was a good reminder of how important self-review and reflection truly is. How often in this smartphone-crazed world of constant connection do we try to find out what's going on in our own heads? It's scary in there, I realize. But it also is important to ask the big questions about whether you're really living the life you're meant to have.
Sounds like Oprah, sure. But Gebhart jumpstarted my brain on tracks I didn't know I could explore. She made me want to keep reading. Her experiences translated directly to my life, and that's so cool. And she's about 20 years younger than me, so I'm gonna say she's going to do amazing things with her time on this planet. And I hope she continues to write about them. Because I want to read every word. It's like finding a new friend who understands your struggle and shows empathy instead of competitiveness.
I think you'll fiind  "52 Cups" refreshing and interesting. And, best of all, it may inspire you to create your own version. Maybe 52 kayak rides? Or something like 52 plates of cheesecake? Whatever your poison, chances are if you share it with another human being, ask some big questions and REALLY listen to what they say, you'll walk away with some decent advice that probably will change your life.
So who will you be in five years?