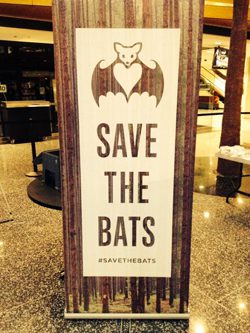 It's a story straight out of Gotham: A car guy meets a Bat Man and the two decide to go on a crusade together.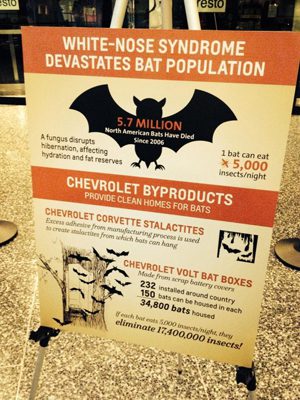 In this case, it is General Motors' Global Manager of Waste Reduction John Bradburn as the car guy. The Bat Man is Robert Mies, executive director of the Organization for Bat Conservation in Bloomfield Hills. Mies also is Bat Zone director at the revered Cranbrook Educational Community, where he educates generations of families on one of his favorite creatures.
Together, they found a way to take some of GM's byproducts and recycled items and turn them into bat gold. Or something like that. For example, bat experts including Mies are looking at whether an adhesive used to produce the 2015 Chevrolet Corvette Stingray could serve as a lifesaving device for the bat population.
The adhesive can be used to create stalactites in artificial bat caves, giving a threatened North American bat species a place to "hang out" when needed.
The threat is real, Mies explained at a GM-sponsored event in Detroit. Bats are in serious jeopardy from habitat loss and something called White-nose syndrome, a deadly fungus appearing on the muzzle and other parts of hibernating bats.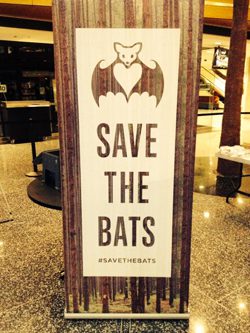 White-nose syndrome has killed more than 5.7 million bats to date in the United States and Canada. Bats with the disease act abnormally and wake from hibernation too frequently. This causes dehydration and a loss in the bat's fat reserves. That can lead to premature death.
There is no cure for white-nose syndrome, but remedies like nontoxic fungicides and artificial bat caves show promise. Saving bats is important because they contribute to the overall health of the environment. A single bat eats about 3,000 to 5,000 insects a night, Mies says, which means farmers can use fewer pesticides. They are also pollinators that help repopulate plants and maintain forests.
Artificial stalactites give hibernating bats more surface area from which to hang, thus spreading them out around the cave, Bradburn explains. Creation of the stalactite is simple; robots that apply a structural adhesive that helps join Corvette body parts are purged regularly to keep the adhesive applicator clean and free of dried material. This dried gunk is the perfect shape for a stalactite, and its use in artificial bat caves avoids sending it to landfills.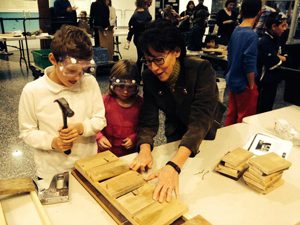 The company also creates bat houses out of scrap Chevrolet Volt battery covers that can hold up to 150 little brown bats each. Bradburn came up with the reuse idea, transforming the difficult-to-recycle material into nesting structures. So far, 232 of these bat houses have been installed on its properties and in other private and public lands in the United States. A tweak of the design has led to 368 specially designed structures to serve wood ducks, owls, bluebirds and scaly-sided mergansers – an endangered species.
"It gives bats a safe, warm place to raise their babies," Mies, the "Bat Man," explains. "Even if they go into hibernation (with the fungus), they have a better chance of survival if they're warm."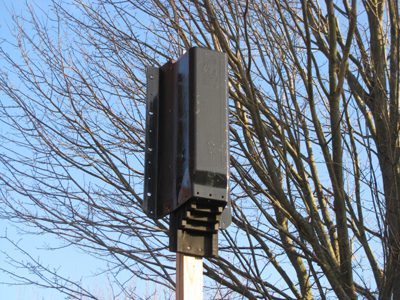 GM Brownstown Battery Assembly, which generates scrap as it assembles battery packs for the Volt, is one of GM's 122 landfill-free facilities. Bradburn says that bat projects have been a part of GM for several years, and they are examples of GM's industry-leading 26 certified wildlife habitat programs and penchant for creative recycling.
For more bat facts and information, visit Save the Bats and National Bat Week on Facebook or read more at www.batcon.org and www.savebats.org/bat-week. For more information on GM's environmental commitment, visit its sustainability report and environmental blog.