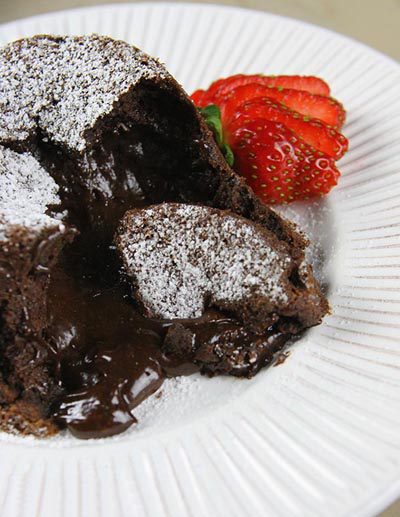 Today marks one of our nation's best holidays, and it involves hanging outside after dark, wearing funny outfits and eating lots of chocolate.
Sadly, children usually have most of the fun. In an effort to bring Halloween equality to all, our friend Drew Maresco shared one of his "Best Recipes" efforts. It is Molten Lava Cake, and we have it on good authority that it is delicious.
Maresco describes it as a "mouth-watering, decadent cake" that's "good enough for royalty." That's high praise, indeed. All we know is that it looks amazing and we're pretty sure it's going to taste amazing. So write down these ingredients and head out to your local grocery store. And if you have everything listed here already in your pantry, we salute you.
By the way, Maresco says you can add the optional toppings of vanilla ice cream or powdered sugar to improve the Molten Lava Cake's presentation. Good suggestions – but we'd say adding both might make for a powerful combination. It is Halloween, after all.
Serves: 5
Time: 35 minutes
Difficulty: Moderate
Ingredients:
1/2 cup granulated sugar
6 tablespoons butter (at room temperature)
4 large eggs
1/2 cup all-purpose flour
1/2 teaspoon vanilla extract
Pinch of salt
2 1/3 cups chopped semisweet chocolate, melted
Confectioners' sugar (optional)
Grease 4, 10 ounce ramekins – muffin tins will also work. In a large bowl with a mixer, cream the butter and sugar on medium-high until light and fluffy, about two minutes. Add eggs, one at a time, beating well after each addition. Then add the vanilla extract. With your mixer on low, beat in flour and salt. Finally, beat in chocolate until just combined.
Divide the batter evenly among the ramekins. Place ramekins on a cookie sheet, for easier transportation, and place the sheet in oven. Bake until tops are just set, 10 to 11 minutes, let cool about 10 minutes. Serve in the ramekins or place a plate on top and flip. Remove the ramekin and serve. Optionally, dust with confectioners' sugar or serve with vanilla ice cream.