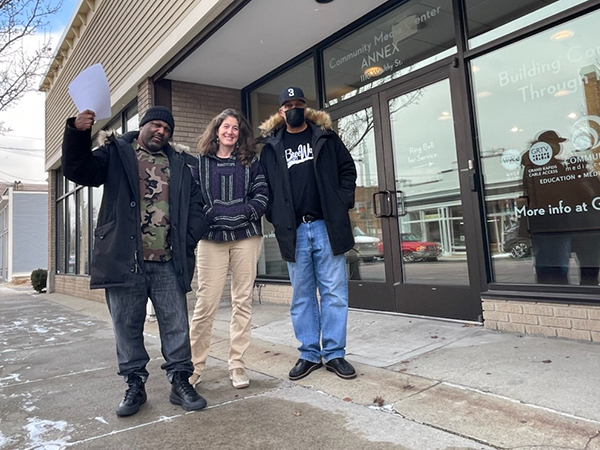 GRAND RAPIDS — Grand Stand Pictures, the film production company creating a feature-length documentary based on the book A City Within a City by Dr. Todd E. Robinson, is pleased to announce its new home in the Community Media Center's Wealthy Theater Annex building, 1110 Wealthy St. S.E, Grand Rapids, Michigan This production office will also serve as the home base for Grand Rapids Media Initiative and Film Incubator (GR-MiFi).
An open house for the new offices is being planned for Saturday, Jan. 29, 2022, 11 a.m. to 6 p.m. at the Wealthy Theatre Annex building. Grand Stand Pictures and GR-MiFi look forward to showcasing the space and sharing the beginnings of many opportunities that will be provided by this partnership. Special thanks to Steelcase Inc. for graciously donating furniture to support this work.
GR-MiFi is a nonprofit media and film incubator that provides education, training, and resources for BIPOC creatives in Grand Rapids. Through workshops, apprenticeships, internships and co-workspace, GR-MiFi hopes to accelerate business opportunities and creative endeavors for content creators in the community who are underserved and underrepresented.
"As we begin filming for A City Within a City, we are incorporating our first film apprentices and our incubator work into the process, so it's optimal that we move into a space to accommodate our development plans," said Victor Williams, President & CEO of Grand Stand Pictures. "This partnership with the Community Media Center is the right situation at precisely the right time for this work, and it serves as a great launching pad for our film and media endeavors."
The Grand Stand Pictures production team and GR-MiFi are excited to establish home at the The Wealthy Theatre Annex building as they have diligently sought locations to set up shop within the 49507 ZIP code and community described in the A City Within a City book. While upholding the principle of "nothing about us without us," locating their offices in Southeast Grand Rapids was important because their work is grounded within the Black community and these important stories that originate from Grand Rapids.
Around the country, community access media builds citizenship and social awareness by creating local alternatives to mainstream broadcasting such as community TV programming (GRTV in Grand Rapids), citizen driven journalism (The Rapidian), and radio stations (WYCE). The mission of the Community Media Center and the work of Grand Stand Pictures and GR-MiFi align into a natural engagement of forces focused on community voices with residents learning media literacy and production skills. CMC's decades of experience teaching TV production and multimedia skills, while also running a lending library of equipment available to community residents, mix well with the mission and goals of GR-MiFi.
As the Community Media Center was prospecting how to build its own capacity to extend its teaching and to provide development services to the neighborhoods surrounding its Wealthy St. SE facilities, the opportunity to engage in partnership with GR-MiFi and the production of the film came at the perfect time. GRCMC Board President Jason Wheeler noted: "Our organization is thrilled to partner with GR-MiFi. We embrace the collaborative spirit of this opportunity and we know we can make a positive impact in our community through this relationship. Historically, our CMC Wealthy Street facility has served as a hub for creative alliances, so it brings our organization joy to see the activation of this space."
GR-MiFi will help teach classes in media literacy, film production, radio and podcasting while also helping to coordinate opportunities with the CMC's equipment-lending library. The front dance studio at the Wealthy Theatre Annex will continue to be utilized by its regular participants while the facility overall will see an increase in use as GR-MiFi builds programming in activation with various community collaborators such as the Grand Rapids HipHop Coalition, GRassrootsUp Initiative, Michigan Black Expo, Inc., Grand Rapids African American Community Task Force, Reachin' Beyond Bias podcast, Mixed Reviews GR web show, the GR Art Rocks project and many more.
"GR-MiFi is excited to be located in this historic area and look forward to our capacity building work in the neighborhoods and with the Community Media Center. We will be helping BIPOC media ventures as well as dynamic local podcasters to frame narratives and to connect film and entertainment industry aspirants to the creative and development process in our work with our community impact initiatives," said Rodney Brown, President and CEO of the Grand Rapids Media Initiative & Film Incubator.
Visit GrandStandPictures.com to learn more about the company and its work to produce the A City Within a City documentary film.