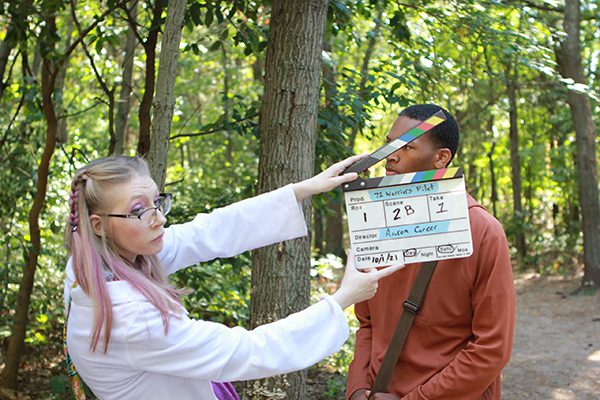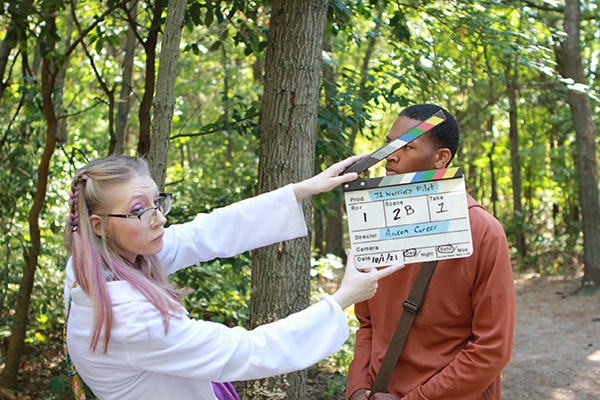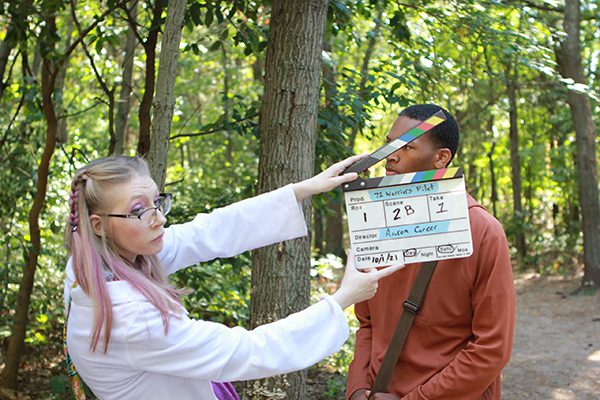 GRAND RAPIDS, MI — After quietly churning out hundreds of movie, corporate video and advertising production professionals for 24 years, Grand Rapids-based Compass College of Cinematic Arts is ready for the national spotlight in 2022 as it begins its 25th year of operations. In 2022, the private, not for profit college will be known as Compass College of Film & Media. Its new slogan is "Mission in Motion." The video production school of 800+ alumni, located in the former UICA/ArtPrize building at 41 Sheldon Avenue in downtown Grand Rapids, started in 1997 as Compass Film Academy and changed in 2008 to Compass College of Cinematic Arts. The new name and associated branding went into effect Jan. 1, 2022.
Compass leaders say the name change is indicative of the rapid evolution the industry has experienced in the last several years as well as what the growing industry will demand in the future.
"Video storytelling isn't just for Hollywood anymore," said Compass College of Film & Media president Jay Greer. "Our roots are based in traditional cinematic arts, but many of our graduates apply their degrees in marketing and advertising, corporate videos, streaming video programs, ministries, digital communications and major brand companies. The media industry is growing 13% annually. Innovative storytelling is constantly evolving and so is the technology. Compass College of Film & Media continues to keep stride with the industry and offer the most hands-on college learning experience possible using technology and equipment that the professionals are using."
As well, Greer points out that the Mission in Motion statement is meant to be a nod to Compass' industry-leading conservatory style classroom experience and faith-based teaching.
"Compass is widely regarded as offering the most hands-on learning experience for its students at nearly 1,000 hours versus 200-300 elsewhere," Greer adds. "We are putting our students' mission of becoming a video content creator in motion with on-set learning, and helping students grow personally, professionally and spiritually so they can succeed in the film and media industry, and impact culture."
Although the faith-based mission has stayed the same, a lot has changed in 24 years. In 1997, Compass started in a downtown Grand Rapids advertising agency as a nonprofit production studio mentoring young, high school and college students. In 2008 Compass became a fully accredited, degree-granting college offering a Bachelor of Fine Arts degree and an Associate's degree.
"In 1997, some families approached my partner and I, who owned an advertising firm and we just had launched a nonprofit production studio, about how their creative sons and daughters could learn from us on becoming visual storytellers and how to pursue a career in filmmaking," said Bill McKendry, a Compass co-founder and longtime co-owner of Grand Rapids-based advertising agency Hanon McKendry. "We started to engage their students in real-world advertising and short film video productions while also encouraging them to walk out biblical values in their work and their work with others. That kept growing and it was the beginning of Compass Film Academy. We never anticipated that Compass would go from a mentorship program to a degree-granting film and media college. Nor that over 800 students would be impacted and learn highly developed skills that would shape many productive and powerful creative storytelling careers, but here we are!"
Other notable changes for Compass in 2022 will be more noticeable to general audiences, as it intends to add exterior signage on its 28,000 SF, 2-level building at the Southwest corner of Sheldon Avenue and Weston Street in downtown Grand Rapids. Compass had been leasing space in the building with ArtPrize, but at the end of 2020 ArtPrize moved out and the college purchased the building and began using the entire facility.
"We looked at 27 buildings in the area, but we felt this building, with the 166-seat theater, tall ceilings and plenty of flex space, and highly visible area of the city is where God wanted us to be," added Greer. "Soon after ArtPrize moved, we created a 2,500+ SF soundstage and green screen stage so our students could get the most professional experience possible."
Compass has already started renovations to the theater space, with the purchase and installation of a new movie projector and acoustic treatments, with sound and video systems to follow.
"The theater is a very important component to the learning experience," said William Kavan, Dean of Education. "Not only does it serve as a lecture hall, it provides the students with a professional screen setting to view and discuss video work. It's definitely a "wow" moment when prospective students see the environment they'll be immersed in."
In addition to the renovations and updates to the physical space, Compass has invested heavily in acquiring the most up-to-date cameras, lighting, and sound equipment, allowing students to engage with the apparatus used in the professional world.
"We purchased new 6K cameras, LED lighting kits, and sound equipment that prepares our graduates to walk into their careers with firsthand knowledge of state-of-the-art technology," added Kavan.
Although Compass has been able to make many of the investments using existing funds, the college is pursuing external support as well. It is currently undertaking a $300,000 fundraising effort. The funds will be used to help offset the cost of renovations, acquire new equipment, and to help build an endowment that can provide more scholarships.
"Taking Compass to the next level will only occur with donor support," noted Greer. "We are asking our friends and industry colleagues to walk alongside us to help this generation of storytellers grow so they can be professionally prepared. Increasing our scholarships will make our programs more affordable to a larger group from our community."
"We are praying that God uses Compass and its graduates to continue succeeding in the film and media industry and impacting culture," said Compass board chairperson Guy Sawyer.