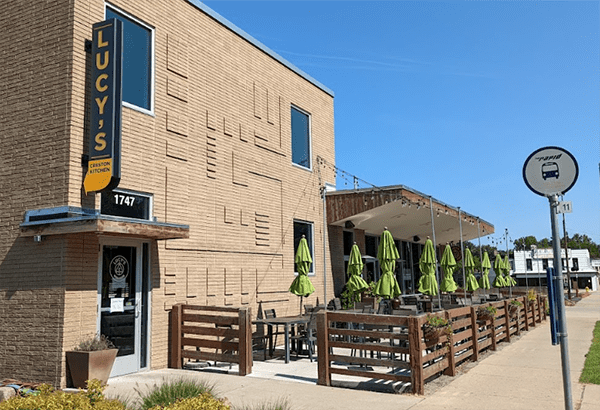 GRAND RAPIDS, Mich. — Grand Rapids-based Essence Restaurant Group, owners of The Green Well, Bistro Bella Vita and Grove, has acquired popular Creston café Lucy's from CWD Real Estate. The terms of the sale call for Essence to own the café, located at 1747 Plainfield Avenue, and lease the building from CWD Real Estate. 
Lucy's name, staffing, hours of operation and menu will remain the same initially. As Essence gets to know the team, the space and the Creston community, enhancements and changes to the current offerings, staffing levels and operating hours are likely to occur.
Although Essence was not actively pursuing adding a fourth establishment to its portfolio, the opportunity to acquire the successful breakfast and brunch café was something Essence partners James Berg and Hillary Edwards could not pass up.
"Lucy's has been doing really well with its breakfast, brunch and coffee bar concept, the building is in great shape and the Creston area continues to gain foot and car traffic, so we were excited to add it to the Essence family of establishments," said James Berg, Chief Executive Officer and Partner, Essence Restaurant Group. "Lucy's commitment to local sourcing and scratch kitchen menu are very consistent with Essence's approach. We are excited to collaborate with Lucy's team and achieve further successes."
The 10,000-square-foot space seats 160 inside and has seating for 28 at its popular outside patio space. There are 52 parking spaces on the property with ample nearby street parking. A Rapid bus stop is also adjacent to the property. City High/Middle School and Kent Country Club are located across Plainfield.
Originally built and operated as Daane's Market, which was co-founded by David Daane and his brother-in-law Simon VanderKooy in 1959, it later became D'Amico's Food Mart in 1978 and successfully operated for 33 years until its closing in 2011. The building sat vacant until early 2016 when Simon VanderKooy's children and owners of the property, Brian VanderKooy, Jan VanderKooy and Sue Despre, renovated the space into two restaurants: Brighton Graye's Bistro and Little Lucy's Café. Over time, the Brighton's concept was discontinued.
In the last few years, ownership of Lucy's has exchanged hands with CWD Real Estate most recently acquiring both the building and restaurant from the VanderKooy family members. CWD is not in the restaurant business so the company quietly searched for an operator. Essence was at the top of that list.
"We want to express our gratitude to the VanderKooy family for entrusting us with this opportunity to preserve what has become a neighborhood institution," said Sam Cummings, Managing Partner of CWD Real Estate. "CWD and Essence Restaurant Group have partnered for more than 15 years on Cherry Street so this is truly a natural extension of the pioneering work we have done together in other neighborhoods in the City. James and his team are great operators, great employers and great community members—we are thrilled to grow our relationship with them."
The VanderKooy family expressed relief and excitement about how everything came together with this project.
"My brother Brian and I have been operating Lucy's for more than five years in addition to our real estate business, Vander Kooy Management, so are looking to concentrate our time on what we do best," said Jan VanderKooy. "We have confidence that Sam Cummings and CWD will maintain the building as a neighborhood asset and James Berg will take Lucy's Café to the next level. We are especially happy that Essence is giving all our team member an opportunity to continue employment."