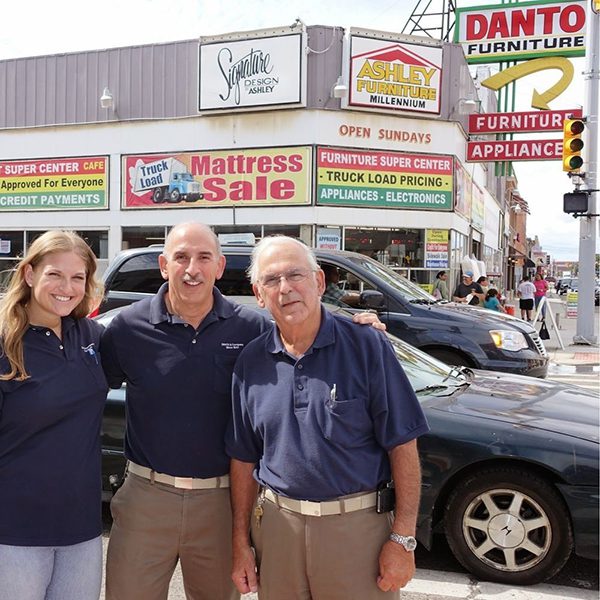 DETROIT, Mich. – Wherewere you in 1940? Watching the Detroit Tigers win the American League Pennant? Keeping a close eye on Europe and Japan? Or, perhaps, going to the neighborhood theatre to plunk down 15 cents to see Walt Disney's animated masterpiece, "Fantasia?"
However, most likely, if you were young family man Julius Danto, you were at the kitchen table putting together plans to build a business that would – eventually – go far beyond your expectations. The Lithuanian-Jewish immigrant was determined to make it in America and help others along the way while doing so. Julius opened Danto Furniture in 1940 in Southwest Detroit and the Danto family has never looked back – only forward.
Danto celebrates the grand opening of its new location, 7741 Dix in Detroit, with a ribbon-cutting ceremony 3-5 p.m. Saturday, Nov. 12. Detroit Mayor Mike Duggan is expected to be among celebrities participating in the ribbon-cutting at 4 p.m.
Danto Furniture employs a multi-lingual staff who are fluent in English, Arabic and Spanish and has satisfied customers throughout metro Detroit, including Allen Park, Dearborn, Dearborn Heights, Ecorse, Hamtramck, Inkster, Lincoln Park, Melvindale, Redford, River Rouge, Riverview, Romulus, Southgate, Trenton, Wayne, Wixom, Woodhaven, Wyandotte and Ypsilanti.
"I think one of the most important reasons that Danto Furniture has thrived for more than 80 years is because of our dedication to serving others and doing the right thing," said current general manager Irwin Danto, a third-generation family member. "My grandfather Julius understood that he was not the only immigrant who had come to this country, nor, he realized, was he the only immigrant who needed a hand-up. In many cases, Danto Furniture has been among the first stops for newly arriving immigrants; and we are proud of that."
The celebration promises to be nothing less than a party. Danto Furniture will offer up to 40% discounts on furniture and appliances; children's face painting, balloons, popcorn, piñatas, Delia's Food Truck, cuisine from restaurant El Nacimiento, grocery store E & L Supermercado; and Postres y Delicias by Dianys Salinas.
"I have been working in the business on and off for the past 8 years and I'm in awe of my grandfather Charles Danto, current owner and family patriarch," said Ashley Danto, Irwin's daughter. "His work ethic and energy – even at 92 years old – is amazing. He has been in the store 6 days a week, pretty much every week, since he was 19 years old. He is the best salesperson we have; everyone is always looking to talk to "Charlie" and when he is not in the building you can feel the difference."
Event sponsors and co-hosts include Business Alianzas, The Southwest Detroit Business Association, and the West Vernor & Springwells Business Improvement District.