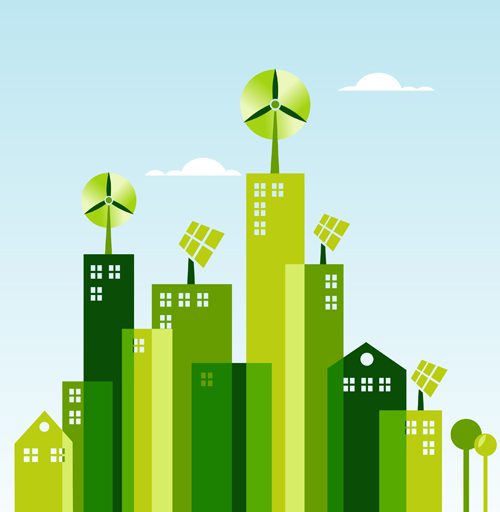 Since 1970, Earth Day has provided an opportunity to raise awareness of the importance of protecting the environment and conserving the Earth's natural resources. But for most of the past 44 years, much of the public – citizens, policymakers, media, corporate executives – have treated Earth Day as just that: a single day to discuss and draw attention to environmental issues like climate change.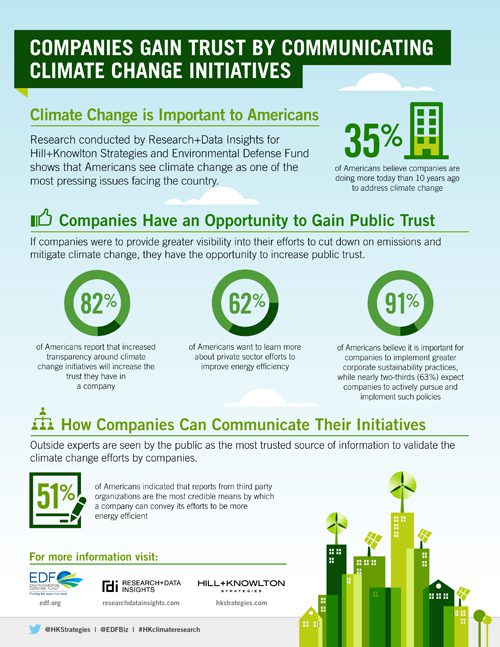 As time goes on, it is becoming clear that while the celebration of Earth Day still serves an important purpose, treating it as single day of dialog is simply not enough. Large segments of the public want to hear, talk about and consume information about protecting the environment every day through multiple communications channels – TV, radio, social media, online forums and so on.
It's also becoming clear that the public is drawn to organizations that share their commitments to the conversation around environmental issues beyond Earth Day. Those companies that are willing engage in an ongoing discussion and connect with others who share their views on conservation and sustainability often end up with a competitive advantage over their peers.
In late 2013, H+K Strategies partnered with the Environmental Defense Fund on a public opinion survey to explore the attitudes of American adults about corporations' communications surrounding their efforts to address climate change. We found that 35 percent of the survey audience believed that companies are doing more today to address climate change than they were 10 years ago.
Notably, it was clear that the public wants to engage with corporations to learn about how they are addressing climate change. Similarly, the public places greater trust in companies that enter into a genuine dialogue. For example:
• 63 percent of Americans expect companies to actively pursue and implement policies to cut down on emissions and mitigate climate change;
• 62 percent of Americans want to learn more about the efforts of the private sector to improve energy efficiency; and
• 82 percent of Americans report that increased transparency around climate change initiatives will increase the trust they have in a company.
In essence, well-conducted communications around efforts to mitigate climate change can give companies an advantage in the court of public opinion.
So why are consumer perceptions so strongly impacted by corporate communications on sustainability? A separate poll conducted by H+K Strategies in October 2013 provides some insight into what drives that thinking. The survey found that consumers increasingly are evaluating companies and making purchasing decisions based on a combination of three key metrics: the company's brand promise, its reputation among stakeholder audiences and how it truly behaves.
When those three elements are out of alignment – for example, when a company's behavior does not reflect its brand promise – consumer trust erodes. It is therefore critical for companies to manage all three elements in a coordinated way. A weakness in one of the three areas indicates a lack of authenticity. After all, can consumers really trust a company that claims to be green, but is not taking steps to reduce its environmental footprint?
The October 2013 survey showed that the American public has very high expectations when it comes to the behavior of companies – and that they are holding companies accountable. Two thirds of people said that they are paying "some" or a "great deal" of attention to the impact companies are having on their communities. Further, nearly 90 percent of Americans believe companies need to do more to bring their behaviors in better alignment with their publicly stated values.
H+K also found that 73 percent of Americans are more willing to purchase products from companies that act in a responsible manner compared with those companies whose words to do not match their actions. This means that companies that are able to align their behavior with their values can connect with the public in a way that has a direct bottom-line impact.
Based on this research it is clear that a majority of the public expects companies to commit to doing more to mitigate climate change and to communicate how their efforts are making a difference. We also learn that consumers are more likely to spend their money with companies that take those steps.
Conversely, companies that fail to act and communicate authentically on climate change become disconnected from consumers. This in turn impacts the company's ability to build and sustain public trust in the brand and loyalty to its products and services.
Earth Day plays an important role in elevating the discussion about the importance of protecting the environment and conserving natural resources. A generation ago, the public's expectations were such that companies could use Earth Day as a "defining moment" to communicate the steps taken to be better stewards of the environment. Today, the public will not settle for communications once a year.
The research is clear: Companies that engage in an authentic, sustained conversation around their policies to address climate change will enjoy far greater trust, a stronger reputation and better brand loyalty than those that do not.
Information on the survey conducted by H+K Strategies and the Environmental Defense Fund can be found here: www.hkstrategies.com/Communicating-Efforts-to-Address-Climate-Change-Earns-Public-Trust.
You can read more about H+K's October 2013 opinion poll here: www.hkstrategies.com/blogs/character/hk-study-finds-consumers-demand-organizational-brand-reputation-and-behavior.