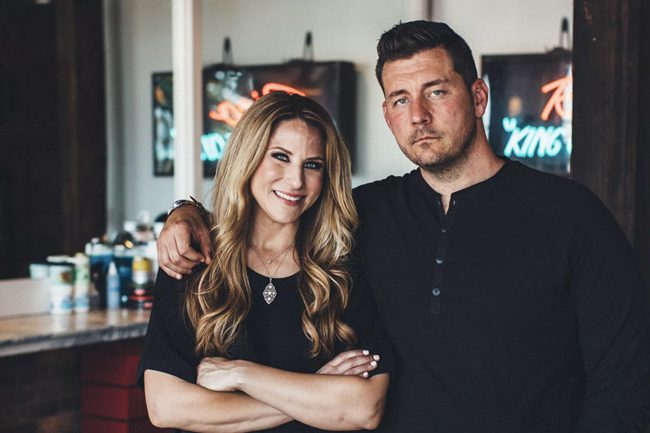 Working with a team of any size can be challenging – but imagine going home with your "work wife" or "work husband." That's exactly what Chad and Jami Buchanan do every day.
When husband-and-wife duo started on their first business together in 2016, Detroit Barbers Barbershop + Brand in Ferndale, they proved that their relationship worked both at home and at work.
The Buchanans have gone on to expand Detroit Barbers Barbershop + Brand in Ferndale and open and expand a second location in Detroit's Corktown neighborhood. Last year they added a coffee shop to the mix, Lucky Detroit Coffee & Espresso is located above their Corktown barbershop. And shortly after that, they embarked on a renovation project that led to their first Detroit property rental – a stunning townhouse just next door to the Corktown shops.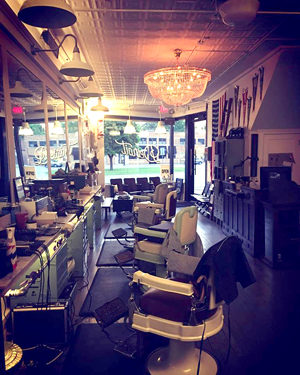 Now, the couple has a few words of advice on how to approach business ownership with a spouse.
Have a common vision: The Buchanans opened their barber shop after noticing how successful old-school barber shops with quality services were in other places – like San Francisco. Jami Buchanan grew up in a family of stylists. Her mother, Loretta "Chickie" Przekop, is well-established stylist here in Michigan. She was a major proponent behind the idea that became Detroit Barbers.
The Buchanans agreed. They saw a need, designed their shops and hired a skilled barber team to fill it. Both Chad and Jami Buchanan shared a vision of how the business would grow, what the shops would look and feel like and how they would be managed.
Define your expertise: Part of the reason the Buchanans enjoy working together comes from their complementary skills. Their strengths work together.
Jami Buchanan manages finances, payroll and other details. She also designed the interiors of each business. Chad Buchanan handles day-to-day details, website and social media promotion and manages the big picture business ideas by helping bring them to fruition.
"We come up with ideas and he puts them into action," said Jami Buchanan. "I remember saying 'We need to add a coffee shop.' Before I knew it, we had all the equipment ordered!"
Trust and confidence: When couples embark on a new business, they start a new relationship as entrepreneurs. Like all business partnerships, that takes trust.
"You have to have 100 percent trust and confidence in that person," said Jami Buchanan. "I don't think it works for everyone. There are ups and downs. You have to power through it."