Financial-services companies, especially membership-focused credit unions, are seeing success during the coronavirus pandemic through an increase in digital offerings, a shift in their real-estate strategies and support for staff as well as customers in this unusual time.
Communicating early and often with employees and members has been effective for credit unions, financial planners and banking institutions of all kinds, officials say. They are doing webinars, creating podcasts, sending out emails and making old-fashioned telephone calls to ensure their customers feel supported and their workers are in touch with this new normal.
At Pontiac-based Michigan Legacy Credit Union, the shift to online banking through the past four months has proven such as success that the Southeast Michigan financial services company is now reviewing how it will operate its branches now and into the future, said CEO Carma Peters.
She's been on the front lines of COVID-19 on the business side and works to serve members who have been hardest hit financially. The credit union closed its lobbies early in the pandemic, and all but one remains closed. (The Pontiac location reopened with social distancing because that branch does not have a drive-thru option, Peters said.)
"We lost a staff member and a board chair all in the same week (to coronavirus)," Peters said. "Our team's safety and that of our members is our first priority. We are reopening slowly."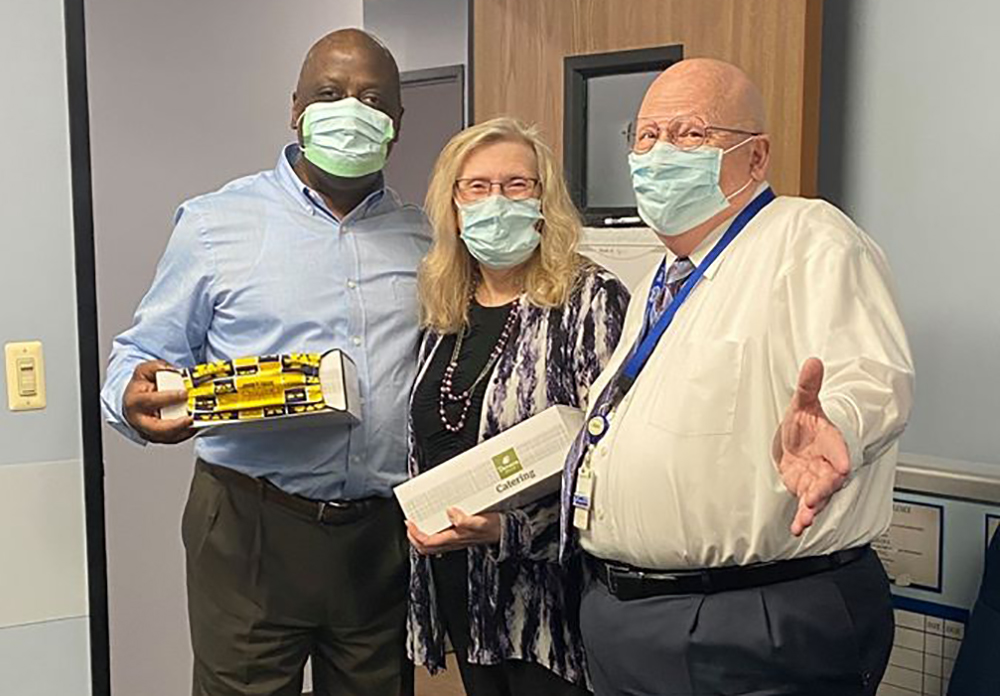 Similarly, Livonia-based Zeal Credit Union with its 13 branches is using technology in new ways, promoting these options to members and its staff so they can work remotely and take care of nearly every aspect of their financial lives online, said Erik Ristow, Zeal's Chief Transformation Officer.
Zeal recently was listed among ten credit unions by Forbes magazine as Michigan's Best-In-State banks and credit unions, a rating based on trust, terms and conditions, branch services, digital services and financial advice, the credit union said.
"We had the technology to operate remotely, we just weren't using it to its full potential," Ristow said. "We pivoted quickly (and) started promoting our online services."
Quick and Early
Michigan Legacy Credit Union (MLCU) has six branches in Flat Rock, Garden City, Highland, Pontiac, Warren and Wyandotte and more than 20,000 members. Peters said MLCU took a variety of quick and early action steps in March when the COVID-19 pandemic surfaced in Michigan with the goal of minimizing banking disruptions, assisting members financially impacted by temporary and permanent job losses and keeping their staff safe.
"While we were hopeful that members would comply, the shift to online banking has been dramatic, with 50,000 more online transactions in April than we had in March. That's a 38% increase," Peters said"
The move to online banking affirms MLCU's strategic branching system decision, made in 2019, to update branches with a smaller footprint, including some in new locations, the introduction of a new design theme, and the adoption of Pop I/O video teller platforms. The new prototype branch is still on target to debut at the current Wyandotte branch site in the fall, with Michigan construction having resumed on May 7.
"We are already seeing the value that will come with having 35,000 less square feet of space, collectively, among our branches," Peters said. 'The massive shift to online banking also reinforces our belief that members will be very comfortable with the video teller concept, especially given we will still have staff onsite to provide additional assistance."
Membership shifts
The impact of the pandemic has been particularly difficult for Michigan Legacy Credit Union members. As a designated low-income credit union, MLCU serves members who are overwhelmingly employed in lower paying sectors that have been hardest hit: transportation, retail, travel and food service, and manufacturing, to name a few.
"Many members have been caught in the eye of the storm. We know that COVID-19 has personally impacted the health of members or their families, and now we are seeing the financial impact, with mounting job losses and an unknown percentage of temporary furloughs potentially turning into permanent layoffs," Peters said.
Members seem more willing to talk to credit-union staff about what they need, and staff is reaching out to members as well to see how MLCU can help, Peters added.
"There are ways we can help you, especially if you reach out early and we can provide more options," Peters said.
Zeal's Ristow said it is seeing more debt-consolidation loans among its members as well as customers seek to pay off debt during this unusual slowdown, perhaps as a response to job loss or decreases in other spending, such as eating out.
To determine what its members needed, Zeal did a survey to find out what kinds of services might be the most important during the coronavirus. Zeal also tasked some of its employees who were working from home to call its members and encourage them to use its online services.
Another successful campaign was mailing each of its members a $1 check that could only be deposited via its remote-deposit option on the Zeal app.
"We had enrollment skyrocket," Ristow said.
Staffing changes
MLCU has been able to retain all of its staff members during the pandemic, with more than 75% working remotely. It even hired two additional workers who were trained remotely but will need to work in the branch for 90 days before allowed remote security clearance to account information.
Peters said the staff adapted quickly to remote work, which made it possible for the credit union to continue to offer this option. It plans to continue to provide work-from-home options throughout the next few months and possibly through 2021.
"We've retained our staff and deployed them in new areas as necessary. For example, as auto loans dried up, we shifted those employees to backlogged work in other areas, including file and document scanning or purging," Peters said. "The value of teamwork has never been more closely felt by our organization than it has been in the last few months."
Zeal also shut all of its 13 branches and is reopening them slowly to ensure the staff and members are safe when they visit, Ristow said. To date, six of the branches have reopened. This safe reopening occurred in part because Zeal is using a texting system and appointment to bring people inside, limiting how many members can be in the lobby or building at any one time.
To boost staff morale, Zeal also is providing lunch as well as dinner gift certificate on occasion for those coming back into the physical buildings, Ristow said. This benefit has made people feel appreciated and acknowledges the effort they are giving for the credit union to survive and thrive, he added.
"Without them, we couldn't serve our members," he said.