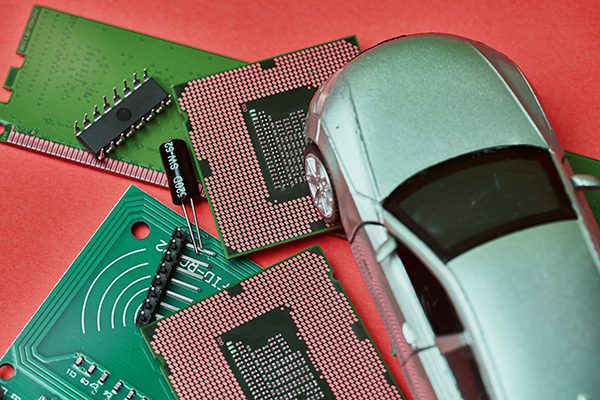 Russia's continuing battle for territory in Ukraine could worsen the world's computer chip shortage at a time when companies across the country have been struggling for months to get hold of them.
The war in Ukraine has shut down operations for plants that refine neon gas — a crucial raw material needed to operate precision lasers that etch silicone slabs into semiconductors. Computer chips are an integral part of every electronic device from consumer cell phones and computers to modern automobiles, medical and military equipment.
But two companies in Ukraine – Ingas, in Mariupol, and Cryoin, in Odesa – refine most of the world's neon gas. And the war ground production to a halt. Russian jets have heavily bombed both cities where the companies are located and people have flooded the border as they flee to Poland.
Russia, meanwhile, supplied roughly 40 percent of palladium to the world, a metal used in making both semiconductors and catalytic converters. Prices for the rare metal have since dropped after jumping to an all-time high of $3,400.76 per ounce. But flight restrictions out of Russia imposed by the U.S. and countries in Europe have hampered shipping, an auto trade publication reported.
Taken together, the impact to neon and palladium exports threaten to ratchet up semiconductor prices and worsen the existing shortage at a time when supply chains already are strained by excessive demand, shipping bottlenecks and fuel price hikes after the Russian invasion.
"If the war is still raging in Ukraine and the sanctions are still in place, there's gonna be a problem there," said Robert Handfield, a supply chain economist at North Carolina State University.
Even before the war, the U.S. Commerce Department warned that chip inventories were dwindling, and said domestic manufacturers could be in trouble if another COVID-19 surge, natural disaster or political instability shut down foreign chip plants.
Factories in Asia haven't shut down as a result of the war in Ukraine. But the longer the war drags on, the more the supply of raw materials needed to manufacture them is at risk.
"The semiconductor supply chain remains fragile, and it is essential that Congress pass chips funding as soon as possible," Secretary of Commerce Gina M. Raimondo said in late January. "With skyrocketing demand and full utilization of existing manufacturing facilities, it's clear the only solution to solve this crisis in the long-term is to rebuild our domestic manufacturing capabilities."
Moody's Analytics argued that the auto industry in Michigan could be particularly affected by higher palladium prices and the halt of Ukrainian neon exports, Bloomberg News reported.
Russia is accused of flattening apartment complexes in the heavily bombed Odesa, the Black Sea port city where Cryoin is located. Prior to the war, the company supplied neon gas to companies in Europe, Japan, Korea and China, Wired reported. But most of its neon went to the U.S., according to the tech magazine.
Foreign chip-makers are less concerned about being unable to source neon gas from Ukraine, Wired reported. But it could have a big impact on U.S. companies, including auto manufacturers that were already struggling to find enough semiconductors.
The White House in February warned chip manufacturers that they should start looking for different suppliers in case Russia cuts off access to neon, palladium and other materials used in making computer chips, Reuters reported.
That may prove difficult.
"The drive behind increased production is so strong that it is causing strain in the supply chain everywhere, even without a war," Lita Shon-Roy, president and CEO of TechCet told Wired. The firm advises tech companies on sourcing materials. "So there is no excess supply of this kind of gas that I know of, not in the Western world."