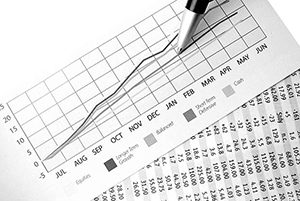 Inflation and inflation expectations data dominated the economic calendar this week. Driven by sharp declines in energy prices, inflation stayed flat in July, closer to Comerica's expectation of a 0.1% monthly gain but below market forecasts for a 0.3% increase. Headline inflation fell from 9.1% in June to 8.5% in July on an annual basis. Core inflation matched June's 5.9% print.
The decline in energy prices is contributing to keep a lid on core inflation as well through, for example, transportation services, which fell 0.5% in July (since January, transportation services have risen by an average of 1.8% per month). Waning consumer demand, high inventories, and increasing competition are compelling retailers to offer discounts to customers. On a negative note, shelter and food costs remain elevated and are up 5.7% and 10.9%, respectively, on an annual basis.

Producer prices fell 0.5% in July, well below market expectations for a 0.2% monthly increase. The decline was the first in two years. Producer prices of grains and oilseeds – two important food categories – posted notable declines of 11.8% and 13.7%, respectively. The service component of producer price index rose at one of the slowest paces (0.1% M/M) in the past twelve months.

The Fed's household inflation expectations survey showed both short- and medium-term inflation expectations are moderating. One year inflation expectations fell to 6.2% in July from a record high of 6.8% in June, while three-year expectations eased to 3.2% in July from 3.6% the prior month. The University of Michigan's preliminary August inflation expectations survey also showed continuing moderation of short-term inflation expectations.

The 4-week average, which smoothens out weekly volatility, of initial unemployment claims rose by 4,500 to 252,000 (the highest level since November), while the 4-week average of continuing claims jumped by 23,750 to 1.399 million. The labor market is expected to cool as the economy eases further.
July's strong jobs report and inflation readings point to another larger than usual interest rate hike in September. Markets priced in a very high probability of a 75-bps rate hike in September following July's jobs report but have significantly pared back expectations for a 75-bps increase after this week's better-than-expected inflation prints.
Bill Adams is senior vice president and chief economist at Comerica. Waran Bhahirethan is vice president and senior economist at Comerica.