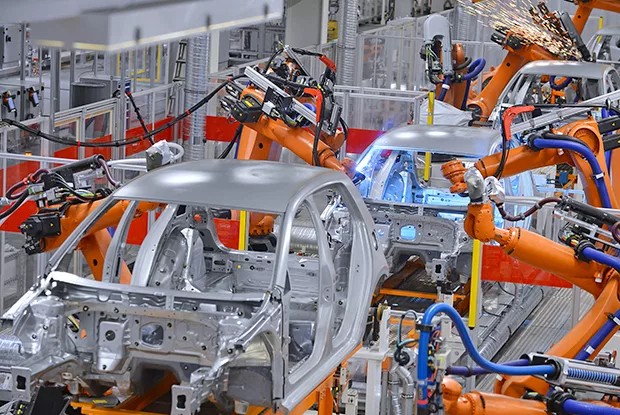 • Industrial Production increased by 0.4 percent in August.
• U.S. Import Prices declined by 0.3 percent in August.
U.S. industrial production increased by 0.4 percent in August, driven by utilities. Utility output was up by 3.3 percent for the month after falling by 4 percent in July. Mining output eased by 0.6 percent in August. Manufacturing output inched up by 0.2 percent. Motor vehicle assemblies were up by 2.4 percent for the month, to a 9.53 million unit annual rate, still well below the near 11 million unit rate that we would expect without supply chain constraints.
Even with the bump up in vehicle production in August, U.S. automakers have announced plant closures in September due to lack of parts and materials. According to the Federal Reserve, late-month shutdowns due to Hurricane Ida trimmed an estimated 0.3 percent off of headline IP for August.
Inflation data for August continues to look a little better than expected. The Import Price Index fell by 0.3 percent for the month after noticeable gains in June and July. The August dip was the first decline in the index since October 2020. Lower prices on fuel imports helped in August, but nonfuel imports also eased, down 0.1 percent for the month. The August Import Price Index was still up 9.0 percent over the previous 12 months.
Mortgage apps for purchase jumped by 7.5 percent for the week of September 10 after little change the week before. It is too early to call this a trend, but it is encouraging. On a four-week moving average basis, purchase apps were down 16 percent from the equivalent week a year earlier. Refi apps fell by 3.2 percent for the week, marking the third consecutive weekly decline and the fifth decline in seven weeks.
So, we can say there is an ongoing downward trend there. Refi apps were on par with where they were a year ago. According to the Mortgage Bankers Association, the rate for a 30-year fixed rate mortgage was stable at 3.03 percent for the fourth consecutive week.
Market Reaction: Equity markets were up after the open. The yield on 10-Year Treasury bonds is up to 1.29 percent. NYMEX crude oil is up to $72.77/barrel. Natural gas futures are up to $5.58/mmbtu.
Dr. Robert Dye is senior vice president and chief economist for Comerica. Daniel Sanabria is a senior economist for Comerica.