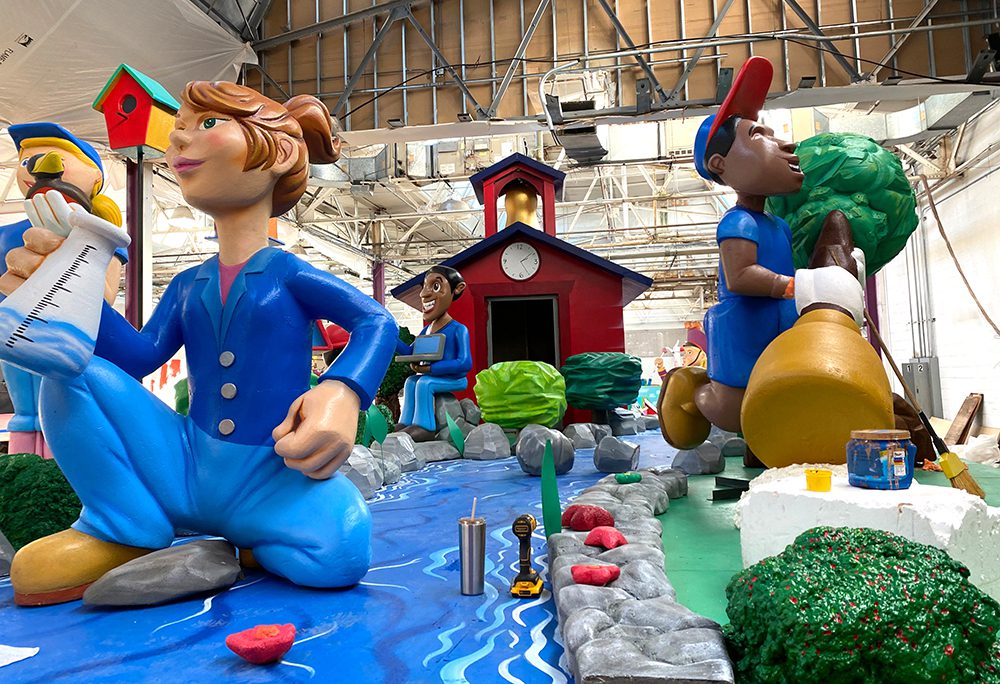 DETROIT — The Parade Company and DTE Energy Foundation unveiled a new float, "Best for the World," at Beacon Park in downtown Detroit.
The outdoor reveal in the heart of the city was attended by Lynette Dowler, President of the DTE Foundation, Tony Michaels, President & CEO of The Parade Company, DTE team members and the community. The new float designed and built by Parade Company artists will debut in America's Thanksgiving Parade presented by Gardner White.
"We are incredibly proud to have the DTE Foundation as part of our Parade Company family," said Tony Michaels, President & CEO, The Parade Company. "DTE is an exceptional community partner, and we are grateful for their commitment to our longstanding Detroit traditions and world-class parade."
"For nearly 40 years, the DTE Foundation has partnered with The Parade Company to enhance Detroit's vibrancy and create hallmark events for visitors and residents to enjoy. We're always excited to see the unique ways they bring the streets to life each year during the parade," said Dowler. "The new float highlights DTE's 'Best IN the world, Best FOR the World' commitment to our state and features the many ways we are in the community – from volunteering to serving customers with our energy. Our team brings to life ideas that will make Michigan a better place to live, work and raise a family, and we can't wait to see this float roll through downtown on Thanksgiving morning."
Designed and built by Parade Company artists, "Best for the World" is over 100 feet long. The first section represents DTE Foundation's many significant community programs including literacy, planting trees and building houses.

The playful globe on the second section of the float represents that DTE is best in the world and best for the world. The earth is 16' in diameter and rotates at the rate of ten revolutions per minute.

The third section is a salute to the amazing line workers who keep our community safe and the energy flowing. The light pole goes up 26' in the air. The line worker high atop the pole could see the Detroit River from the parade route. Themed "Our Great City! Detroit!!" America's Thanksgiving Parade presented by Gardner White is featured annually on WDIV Local 4, including a one-hour syndicated national broadcast reaching more than 185 television markets across the country. 760 WJR's Paul W. Smith and Audacy WOMC 104.3 also broadcast parade shows.
Voted as America's Number One Holiday Parade by the 2018 and 2019 USA TODAY 10 Best Readers' Choice Awards, America's Thanksgiving Parade presented by Gardner White takes place on Thursday, Nov. 24. WDIV-Local 4's live coverage begins at 6 a.m. with pre-parade coverage, followed by a parade pre-show beginning at 9 a.m. America's Thanksgiving Parade® presented by Gardner White will air live on WDIV-Local 4 from 10 a.m. to noon.