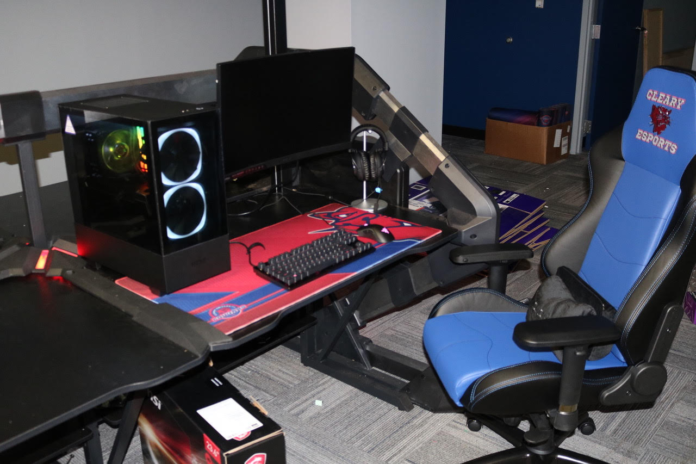 HOWELL – This fall, Cleary University presents an improved campus with expanded sports, service and learning options as well as new security features.
In addition to the golf simulators and chiropractic clinic that were added in 2020 to its Wellness Center, Cleary University has constructed an Esports arena, expanded Clancy's cafeteria and built a spirit wear store in Cleary Commons, which are all unveiled in time for the fall semester. The business university also has moved its hockey team to 140 Ice Den as its home ice and partnered with MIPS – Michigan International Prep School – to build a Fab Lab on campus, an innovation center where hands-on learning will promote digital media, artificial intelligence, 3D prototyping and more STEM-focused subjects for Cleary students.
"Everything we are doing is to enhance the student experience and ensure that they have an impactful time at Cleary," said Dr. Matthew Bennett, Senior Vice President – Institutional Advancement. "These improvements demonstrate our persistence and tenacity that, despite a pandemic, we are forging ahead and providing a higher education experience that is unparalleled in the region."
With Esports new this fall to Cleary's roster of 19 varsity sports for undergraduates, the arena comprises 1,700 square feet of Cleary Commons with 30 gaming stations, office space, streaming access and a broadcast booth. The recently added golf simulators and Duncan Chiropractic clinic in the Wellness Center also serve Cleary student-athletes as well as the wider community. Partnering with 140 Ice Den, which is across the street from Cleary's Wellness Center, brings its men's hockey team closer to campus and provides an easy option for student life activities.
Inside Cleary Commons, which was remodeled in the last year as well with a new roof featuring Cleary's signature blue and red and a remodeled student-centered atrium with state-of-the-art technology and study nooks, Clancy's cafeteria now features a food court-style approach with varying food options and daily specials. The Cougar Den, Cleary's campus apparel shop, was moved from the Chrysler Building to the Commons in an expanded setting, and will now offer an online store as well.
The MIPS Fabrication Lab is an innovation center designed to promote creative thinking and problem-solving. It offers digital media production, programming and artificial intelligence opportunities, enhancing Cleary's STEM offerings. Designed to promote development of the Eight Attributes of The Cleary Mind, the Fab Lab enhances Cleary's ability to add industry-recognized STEM certifications as well as becoming a place to offer high school and college students hands-on learning opportunities. Cleary has plans to eventually add cyber security, data science and other tech certifications and degree programs.
On campus, sidewalks now have improved accessibility, there is enhanced campus-wide WiFi, and security cameras and blue phones provide enhanced student safety, supported by an expanded security team. "This is all about helping students achieve their career goals," says Bennett. "The intersection of theory and practice occurs on our campus, and we are constantly striving to improve and increase options so a Cleary education is all-encompassing and infinitely expansive. These expansions show our commitment to not only our student body, but the community as a whole and the wider region."