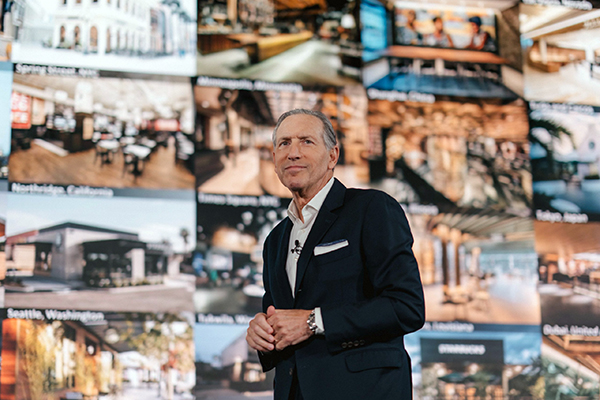 Starbucks hosted its biennial Investor Day in Seattle where interim chief executive officer Howard Schultz, chief financial officer Rachel Ruggeri, and Starbucks leaders showcased the company's Reinvention plan to an in-person audience of more than 150 investors.
Presentations highlighted decisive actions and targeted investments in partners, customers, and stores that are expected to accelerate the company's long-term growth, progressively expand operating margin, and drive high-teens non-GAAP EPS growth annually through fiscal 2025.
"As we execute on our Reinvention plan, we are building on our 51-year history of market leading innovation to position our business and our brand for the next chapter of growth," said Schultz. "Guided directly by our partners, we have already begun to take action on an inspired roadmap to build the future of Starbucks, all while staying true to our mission of uplifting communities through a shared love for coffee and further extending our coffee leadership and innovation. I am confident that our partners and world-class leadership team will capture the significant global growth opportunity ahead, unlocking value for all our stakeholders."
The Associated Press reported that Starbucks plans to open 2,000 net new stores in the U.S. by 2025, with an emphasis on meeting the growing demand for new types of service, including drive-thru, mobile ordering and delivery. Drive-thru now makes up 50% of U.S. sales, for example, while delivery demand has grown by 24% so far this year, the AP reported.
Schultz also introduced incoming CEO Laxman Narasimhan, who shared his enthusiasm for the Reinvention plan. Narasimhan will officially join Starbucks on Oct. 1 and will work closely with Schultz before assuming the CEO role and joining the board in April 2023. Schultz will remain as a member of the Board after the transition.
In connection with its Reinvention plan, Starbucks introduced a framework for accelerated earnings growth over the next three years, underpinned by enhanced comparable store sales growth, increased store count growth, continued margin expansion, and disciplined capital allocation.
"Starbucks is a growth company, and our accelerated expansion is a direct reflection of the expected returns from our Reinvention plan," said Ruggeri. "By making strategic and highly targeted investments to drive value for partners, Starbucks will also drive value for customers and shareholders, while managing costs, improving margins, and elevating the Starbucks Experience for all stakeholders."
From fiscal 2023 to fiscal 2025, Starbucks expects comparable store sales growth to be in the range of 7% to 9% annually, both globally and in the U.S., up from the previous range of 4% to 5%. In China, Starbucks expects outsized comparable store sales performance in fiscal 2023 and fiscal 2024, as the market laps the severe impact of COVID-related lockdowns, with growth normalizing in the new range of 4% to 6% in fiscal 2025, an increase from the prior range of 2% to 4%, reflecting an increased digital capability and confidence in the vast opportunity ahead in this key growth market.