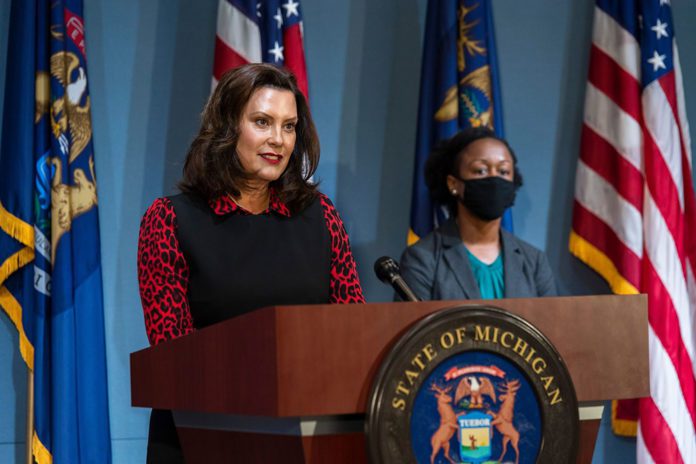 A few weeks ago, Gov. Gretchen Whitmer talked hopefully of being able to move the entire state into phase five of her reopening plan by the Fourth of July holiday, based on dropping COVID-19 numbers and the efforts by Michiganders to adhere to social distancing.
On Tuesday, Whitmer acknowledged that isn't likely to happen. Not only that, but now some parts of the state may actually be taking a step backward.
At a press briefing Tuesday, Whitmer said she's considering moving some regions of the state back a phase, which could reimpose some restrictions in areas where there are increases in coronavirus cases.
Northern Michigan and the Upper Peninsula are already in Phase 5, and Whitmer has allowed the opening of places such as indoor theaters (with capacity limitations) and gyms, subject to safety procedures designed to minimize the spread of the virus.
"A lot of states in the country are watching cases grow exponentially and worrying that their ICUs are filling up," Whitmer said during the press conference in Lansing. "We are not in that position, but our numbers are not as strong today as they were a couple of weeks ago."
More: School Roadmap Directs Districts to Develop Return to School Plans
More: Whitmer Releases Four-Point Plan for Police Reforms
More: Governor, GOP Reach Agreement to Balance Budget
Dr. Joneigh Khaldun, the state's chief medical executive, said Tuesday spikes are increasing in both the Lansing and Grand Rapids regions, where they've jumped to a daily rate above 20 new positive cases per million people.
Detroit, Kalamazoo, Saginaw and Jackson also are seeing spikes, but their rates are still less than 20 new positive cases per million people.
The increase in cases appears to be coming among younger people. Some 23% of new cases occurred among people age 20 to 29.
Whitmer said her office is studying the information in an effort to determine which regions, if any, will have to back up with more restrictions. Regardless, she said Tuesday, the lower half of the state will not be moving into Phase 5 before Saturday.
Whitmer said she hopes to be more specific in the "next 24 to 48 hours." Michigan announced 32 additional coronavirus deaths Tuesday and confirmed 373 new cases. The state has tallied 70,728 known cases of COVID-19 since the state's first cases were reported March 10. Michigan's death toll from the disease now stands at 6,193, including 246 probable deaths.