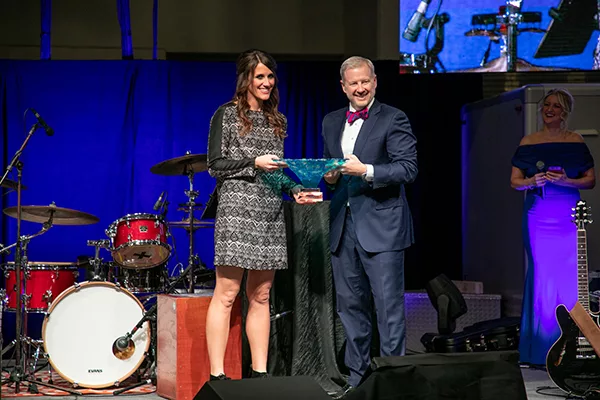 GRAND RAPIDS, Mich. – The Grand Rapids New Car Dealers Association, or GRNCDA, announced Stone Plastics and Manufacturing, Inc. as the recipient of its 2023 "Celebration of Innovation: Automotive Supplier of the Year" award. The award was presented to Stone Plastics Communications Specialist Teresa VanDerSchaaf during the Feb. 1 Charity Spectacular Preview for the 2023 Michigan International Auto Show.
"Automotive suppliers right here in our own community continue to explore innovative technologies to improve parts, designs and automation," said George Sharpe Jr., GRNCDA president. "The Celebration of Innovation award allows Grand Rapids area dealers to recognize forward-thinking companies like Stone Plastics for the creative ideas and processes that improve automobile manufacturing, vehicle parts, and ultimately the vehicles on our roads today. Stone Plastics is an employee-focused company that supports our community, and it is an honor to present them with this 2023 award."
Stone Plastics & Manufacturing is a privately held, state of the art, injection molding and manufacturing company. In 1999, three guys with one injection molding machine and a vision started a new company in a warehouse in Grand Rapids, Michigan. In the years since, Stone has grown to a company with over150 employees and 75 molding machines in a 165,000 square foot facility. The same passion for innovation and customer service that started this company exists today.
"I am pleased to accept this award on behalf of Stone Plastics," said Teresa VanDerSchaaf, Stone Communications Specialist. "The honor of this award comes from knowing everyone at Stone has worked together to achieve this recognition. We are humbled to be receiving the Celebration of Innovation award tonight."
The company has a strong value in not only customer relationships, but community relationships as well. They sponsor local area high school groups and events; they participate in community outreach programs and contribute to their local charities. It is evident that being a strong part of their community is not just important to them, but it is who they are.
The 25th Annual Michigan International Auto Show is presented by the Grand Rapids New Car Dealers Association and is one of 14 consumer expositions produced by ShowSpan Inc., in Grand Rapids, Michigan. Founded in 1945, ShowSpan – a John D. Loeks Company – has grown to be one of the largest producers of consumer shows in the Midwest.