Royal Oak – Siren, a strategic communication firm in metro Detroit who strengthens companies and nonprofits through clear, powerful communication, announced today its expansion to Marquette, Michigan. The firm's second office will be headed by co-founder and chief marketing officer Adela Piper.
Siren has had its eye on expansion to Michigan's Upper Peninsula since beginning work with Northern Michigan University three years ago.
"Marquette is significant to Michigan's future and Siren is going to be part of that," said Lindsey Walenga, Siren's co-founder and chief executive officer. "Climate migration and remote work are real factors that are driving the growth of cities like Marquette. We've been on the ground serving economic development and education-based clients in the U.P. and we see great potential for Siren there. To truly become a statewide firm and invest in the best of what Michigan has to offer, we are committing to a future in both Marquette and Metro Detroit."
Along with Northern Michigan University, Siren is also the public relations firm of record for Innovate Marquette SmartZone, who Siren partnered with to launch the Make it Marquette movement now underway across the state.
Siren's reasons for choosing Marquette are numerous and include:
In-person access to Siren's U.P. client base and innovators who are shaping Michigan's future
A robust ecosystem surrounding entrepreneurship, tech, and business development
The city's collaboration within the Center on Rural Innovation
Broadband accessibility through NMU's nationally-recognized Education Access Network
A desire by the Piper family to live a life close to the outdoors, which includes 83 miles of Lake Superior shoreline and 40+ parks and recreation spaces within a 10 minute drive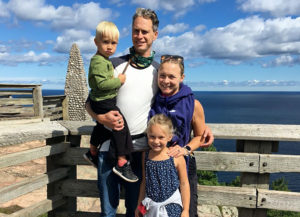 "This opportunity is equal parts right for our family, and right for our careers," said Adela Piper, CMO for Siren. "Marquette is a special place for us, and soon it'll be home. We value the outdoors, sustainability, arts and culture, a small-town feel… this place has all of that while also providing innovation and opportunity on the business side."
Siren's presence in Marquette will begin in September with Piper's relocation, and the firm expects to have a business address there by the end of 2021. All of Siren's additional team members will remain based in Royal Oak, Michigan working with a hybrid model of both in-person and remote work, as they have since the firm launched in 2012.
This expansion to Marquette is the next iteration of Siren's evolution over the last two years. In 2019 the firm developed a unique strategic communication process to strengthen the brand power of its clients. In 2020 Siren experienced 4% revenue growth during the pandemic and rebranded from a public relations firm to a strategic communication firm. All of that previous growth has made the expansion to Marquette possible.
"The business ecosystem in Marquette is welcoming for new businesses, and also provides robust support for businesses choosing to expand here," said Joe Thiel, CEO of Innovate Marquette SmartZone. "The strategic contributions and energy Siren brings are going to reinforce the business services available in the U.P., making way for strategic business communication for existing and new companies in the region, and make our partner network even stronger. We're thrilled Siren is choosing to make it Marquette."