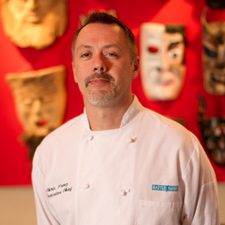 Sure, it feels like summer will never return. But you know eventually you'll be grilling again. And that's where the Rattlesnake Club's Chris Franz has you covered.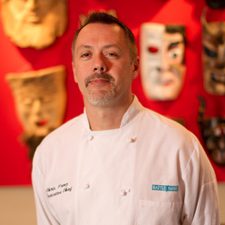 Last year, Chef Franz won second place with this gem of a recipe in the "Burger Brawl 2013," which took place on the grounds of the Fairway Packing facility at Eastern Market in Detroit.
An estimated 2,000 meat-eating fans got to sample burgers from 17 restaurants, including One Eyed-Betty's in Ferndale, Town Tavern, Green Dot Stables, Mt. Chalet and more. Of those 17 restaurants, the crowd chose through in-person ballots and Facebook votes the eight finalists to send to the judges' table.
Chef Franz joined The Rattlesnake Club in Detroit in 2001 after serving as executive chef at The Rattlesnake Club founder's namesake bistro Jimmy's in Grosse Pointe, Mich., since 1998. He worked alongside renowned Chef Jimmy Schmidt for more than 10 years creating and producing award-winning cuisine in Detroit, throughout the country and around the world.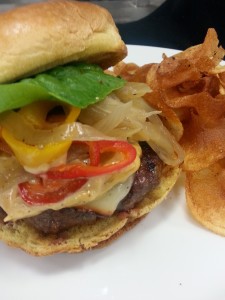 His previous experience includes private clubs beginning in 1992 where Chef Franz served as executive chef and executive sous chef for Oak Pointe Country Club in Brighton and the Renaissance Club in Detroit and as executive chef at Forest Lake Country Club in Bloomfield Hills.
After working up the ranks to sous chef at the Sterling Inn in Sterling Heights, Mich., under Chef Ray Hollingsworth, Chef Franz earned his degree in Culinary Arts from Oakland Community College in 1991.  He was also a silver-medal-winning member of the Michigan Restaurant Association's competitive culinary team. Chef Franz lives in St. Clair Shores with his wife and three children.
For the Burger:
1 pound ground beef brisket
1 pound ground beef short rib
1 pound ground sirloin kosher salt and black pepper
1 1/2 cups pickled sweet peppers
1 1/2 cups beer braised onions
6 brioche buns
6 thick slices Manchego cheese (try Michigan-made Reny Picot Mantoro)
Leaf lettuce
Bratwurst-Spiced Aioli (see below)
1. Combine the ground meats and season with salt and pepper. Form patties, each weighing around 8 ounces.
2. Heat outside grill or stovetop griddle to medium-high. Cook patties for about 4 minutes on one side, flip and cook 3-4 minutes on other side. Top each patty with cheese and allow to melt in last minute of cooking. Remove from grill to platter to rest.
3. Meanwhile, toast buns on warm grill/griddle.
4. Place bottom buns on serving platter and top with aioli (see recipe below). Add burger, pickled peppers, braised onions and leaf lettuce. Add more aioli to top bun, finish assembly.
For the Bratwurst-Spiced Aioli:
1 1/2 teaspoons black pepper, ground
1 teaspoon cayenne pepper
1 teaspoon paprika (I use smoked)
1/2 teaspoon nutmeg
1 tablespoon dry mustard (I use Coleman's)
1 tablespoon coriander
1 teaspoon sage, ground
5 teaspoons kosher salt
2 teaspoons sugar, white
2 teaspoons onion powder
2 cups mayonnaise
Combine all ingredients well and refrigerate for 24 hours before serving.