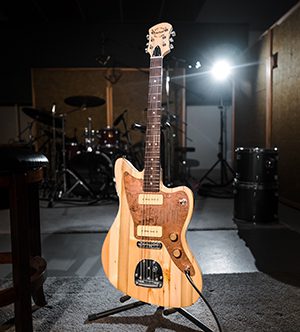 LANSING, Mich. – In a nod to Michigan's rich musical and manufacturing heritage, the volunteer-based Michigan Cares for Tourism (MC4T) nonprofit has officially launched an auction for the Pure Michigan guitar, a handcrafted, one-of-a-kind instrument created by Wallace Detroit Guitars. The proceeds from the auction will be donated to MC4T, a 100-percent volunteer partnership of tourism professionals dedicated to restoring and preserving Michigan's historic, cultural, and natural attractions.
"Pure Michigan is proud to partner with Wallace Detroit Guitars, who designed and built the Pure Michigan-branded Jazzmaster guitar. This incredible instrument brilliantly incorporates so many unique elements of our state, while also paying homage to our rich musical and manufacturing heritage – and it plays beautifully as well," said Dave Lorenz, Vice President of Travel Michigan, part of the Michigan Economic Development Corporation. "We're excited to share the opportunity to win this guitar. Whether you're a collector or a serious musician, this instrument will be a cherished keepsake for generations to come."
The custom-made Pure Michigan guitar is made of reclaimed old-growth pine from the Packard assembly plant, originally cut from Michigan forests. The custom pickguard is handmade of aged copper and hand-etched with the Pure Michigan logo and scenes from around the state. The guitar strap is handmade of reclaimed vinyl from 1960 Cadillac car seats, and the control knobs are handmade brass replicas of Detroit manhole covers. The guitar is a testament to the hard work and high quality of Michigan's makers and innovators.
To bid on the guitar, visit here. The auction will close at noon on May 25, and the winner of the guitar will be announced later that day at the "Return to Summer" Pure Michigan event on Mackinac Island via Facebook Live. To watch of video of the making of the guitar, visit here.
In 2014, Mark Wallace started Wallace Detroit Guitars to build guitars that represent Detroit's history. The company uses reclaimed wood from Detroit buildings and continues Detroit's proud tradition of making good things and great music. Wallace Detroit Guitars has saved approximately one ton of salvaged wood from going into landfills, and aspires to use only Michigan-made materials and hire only Michigan residents.
"As a Detroiter and former Detroit high school teacher, I love Detroit and I love Michigan. This company is my way of showing that love and respect for the spirit of Michigan people," Wallace said. "I'm honored to be able to design and build this guitar for Pure Michigan and thrilled with the results. It's a beautiful piece just to hang on the wall, but when you take it off the wall and start to play it, you're going to love the way it sounds."