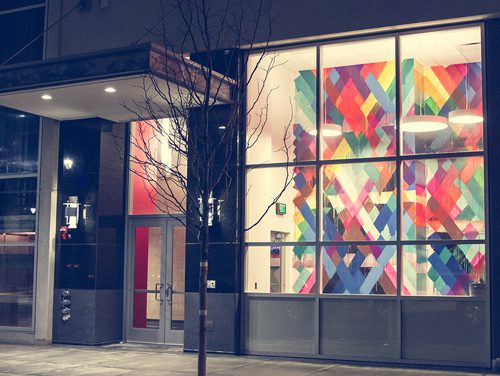 Detroit's real-estate outlook for retail got even brighter Thursday with Bedrock Real Estate Service's announcement that three new stores will lease 5,200 square feet of space at "The Z," the company's first ground-up development.
The three tenants coming to downtown Detroit will create fitness, clothing and dining experiences on the Library Street side of the building, Bedrock officials said. They are: NoJo Kicks, 7 Greens and Citizen Yoga.
These retailers will join Punch Bowl Social, which announced in April it was joining the development as its anchor tenant. Punch Bowl Social is a national entertainment attraction that will offer made-from-scratch, high-end comfort food, a large craft beer selection and handmade cocktails paired with old-school games such as ping pong, bowling, marbles, shuffleboard, darts, pinball, pool and more.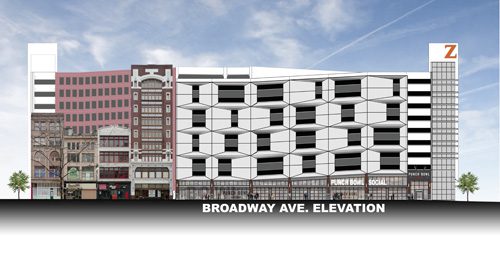 In total, "The Z" has 34,000 square feet of street-level retail. It also has a state-of-the art parking garage. Its biggest claim to fame within Detroit is that is has murals throughout the building painted by 27 local and internationally known artists, creating a unique environment both on the exterior and interior of the building. "The Z" opened in January 2014.
"Downtown Detroit is quickly becoming the hotspot for destination retail and the exciting new tenants that will soon open up shop in 'The Z,' is evidence of the 'opportunity' that is Detroit," Dan Mullen, vice president of Leasing and Development for Bedrock Real Estate Services, said in a statement. "A distinct retail mix is helping put downtown Detroit back on the map and we're proud to fill 'The Z' with great experiences that Detroiters will enjoy for years to come."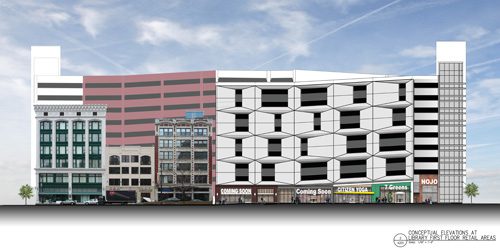 Detroit-based Bedrock Real Estate Services is a full-service real estate firm specializing in purchasing, leasing, financing, developing and managing commercial space. Since its founding in 2011, Bedrock has recruited more than 100 tenants to downtown Detroit's Central Business District into both office and retail spaces. In addition, Bedrock and its affiliates have invested more than $1.3 billion in downtown Detroit real estate, and now own, control or manage more than 50 properties totaling more than 8 million square feet.
Bedrock Real Estate Services has been a key partner in Opportunity Detroit, which has been championed by Quicken Loans founder Dan Gilbert in his quest to revitalize the city. Opportunity Detroit is a mission and a brand that promotes downtown Detroit as a great place to live, work and play. The campaign launched as a partnership between several downtown Detroit businesses, the Detroit Regional Chamber and dozens of civic and philanthropic organizations in the city.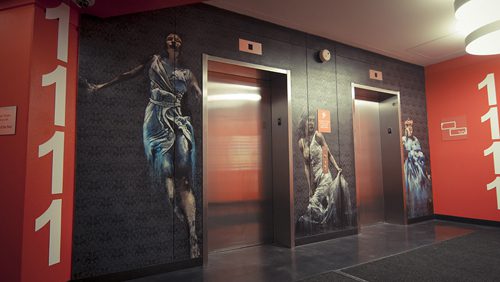 NoJo Kicks will occupy 1,400 square feet. It is described as "An out-of-the-box premium retailer of luxury and rare collectible sneakers, tailored jeans and custom hats." The retailer will initially open at 9 a.m.  June 23, and be open through the Ford Fireworks, offering premium shoe styles at retail prices. NoJo Kicks will officially open seven days a week beginning in July.
7 Greens will have 1,500 square feet. It is a new farm-to-fork destination owned by long-time Detroit chef and caterer Kelly Schaefer, which offers make-your-own salads with her homemade sauces, soups, granola and sweets. Focused on fresh, fast, healthful gourmet eating, 7 Greens will be open for lunch and dinner Monday through Saturday beginning in August.

Citizen Yoga has the largest space at 2,300 square feet. It will offer classes that range from Vinyasa to Basics with an emphasis on alignment. Founder Kacee Must opened the first studio in Royal Oak in August 2013.
Bryan Lively, vice president of Retail at Moosejaw, who has consulted Kacee the past two years, will be joining her to open their Detroit location this fall. Citizen Yoga is a company dedicated to high quality teaching, as well as, hosting and participating in events that help facilitate an inclusive community in Metro Detroit. Citizen Yoga will offer great retail featuring a "Citizen of Detroit" private label clothing line. The studio will be offering classes seven days a week.
The addition of these retailers leaves only 8,000 square feet of available retail space in 'The Z." Tenants for the remaining retail space will be announced in the coming months.