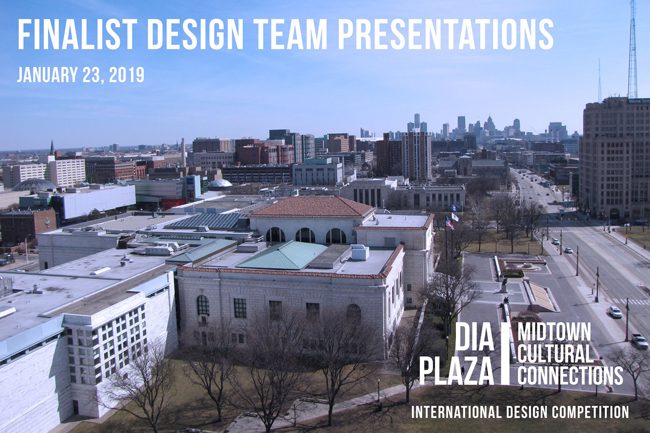 All eyes from the architecture world were on Detroit recently when three groups tasked with the assignment to create a "cultural campus" focused around the Detroit Institute of Arts came together at the art museum to share what they had created.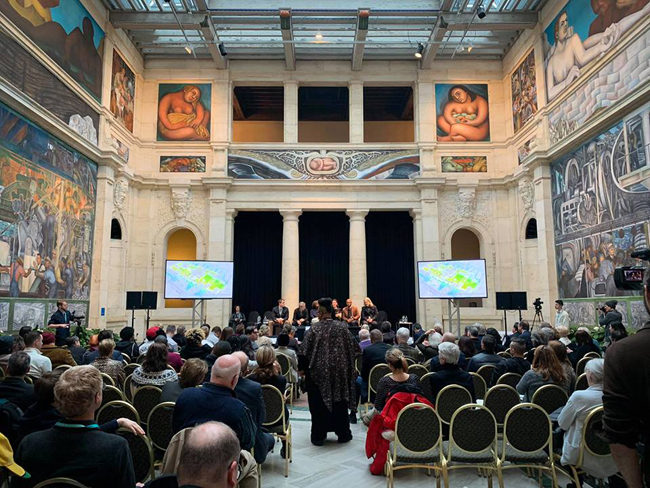 The goal is to create a museum district, taking the 12 cultural institutions around the DIA and in the Midtown neighborhood and turn them into an united area where residents, visitors and groups can equally enjoy and educate themselves.
Three groups made up of local activists, urban architects and landscape designers from around the world showed off their suggested designs before a panel of local judges, including Detroit city officials, and a crowd of about 200 people.
The DIA Plaza project will take area groups – including the Detroit Public Library, Detroit Historical Museum, the Charles H. Wright Museum of African-American History, Wayne State University, Scarab Club and others – and a develop a world-class cultural heart for Midtown and Detroit, officials said.
"Connecting the city's artists and scholars with some of the world's best landscape and architecture firms, the competition reimagines Midtown as a civic commons at once monumental and accessible, cosmopolitan and distinctly Detroit. It shows how a participatory and multilateral design process can forge a consensus for change among institutions, funders, and neighbors," said Jonathan Massey, competition juror and University of Michigan Taubman College of Architecture and Urban Planning dean.
Cultural heart
The DIA and its partners, including development organization Midtown Detroit Inc., started this process of building a "heart" for the cultural and educational district in spring 2018. The two also hosted a student competition, led by communications and urban-planning students from around Michigan. The winning team from Wayne State University created a vision of a large cultural campus that removed one of the DIA's existing parking structures and created an open campus with food trucks, a performance stage and additional signage.
Mikyoung Kim Design, TEN x TEN and Agence Ter presented designs for the DIA Plaza that will reimagine the Cultural District in Detroit. The DIA and its local partners will select a winner from the three presentations by spring, officials said. Insiders say the final decision should come before the end of April.
The initial 44 submissions to the competition RFQ from more than 10 countries and 22 cities were narrowed down to eight firms, each of which presented their ideas to a panel of jurors at a public event at the DIA in June 2018. Each of the three design teams presenting as finalists in the competition include Detroit-area firms as partners.
The three design teams and their partners are: Agence Ter, Paris, France, with team partners Akoaki, Detroit; Harley Etienne, University of Michigan; rootoftwo, metro Detroit; and Transsolar | KlimaEngineering, Germany; Mikyoung Kim Design, Boston, with team partners James Carpenter Design Associates, New York; CDAD, Detroit; Wkshps, New York; Quinn Evans, Detroit; Giffels Webster, Detroit; Tillett Lighting, New York; Cuseum, Boston; Transsolar | KlimaEngineering, Germany; and Schlaich Bergermann & Partners, New York; and TEN x TEN, Minneapolis, with team partners MASS Design Group, Boston; D MET, Detroit; Atelier Ten, New York; Local Projects, New York; HR&A Advisors, New York; Dr. Craig Wilkins, University of Michigan; and Wade Trim, Detroit.