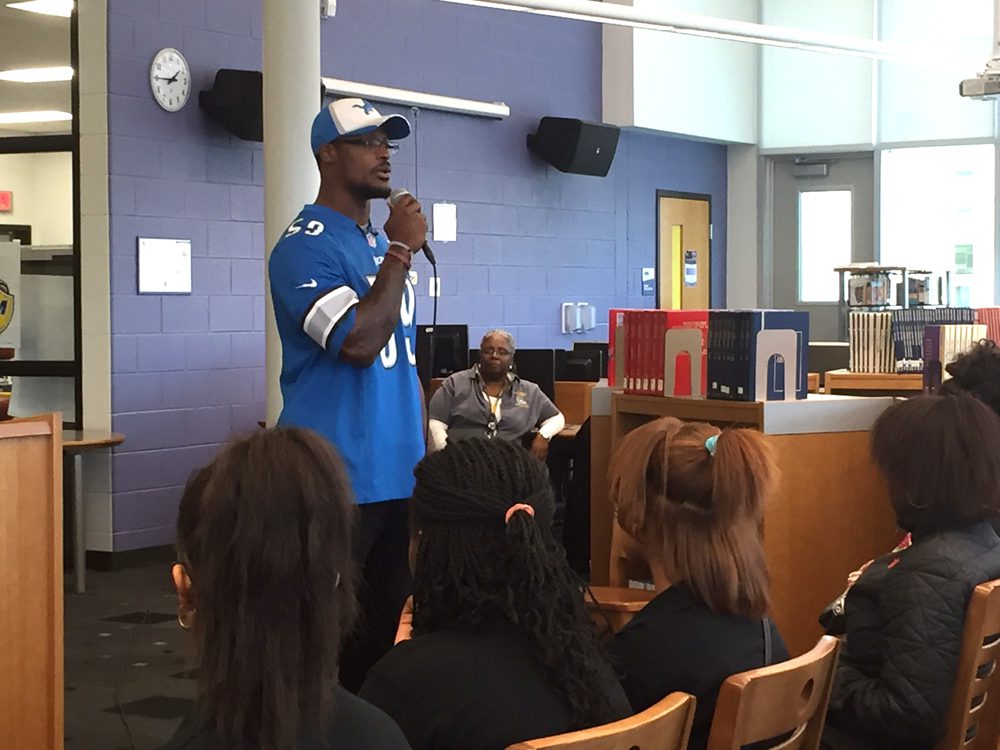 Tahir Whitehead has impressive professional accomplishments: Playing for the National Football League and serving as a Detroit Lions linebacker.
But it's personal accomplishments – having a family, supporting his sons and earning a college degree – that bring a smile to his face, Whitehead told a group of about 50 ninth-grade students at Detroit's East English Village Preparatory Academy.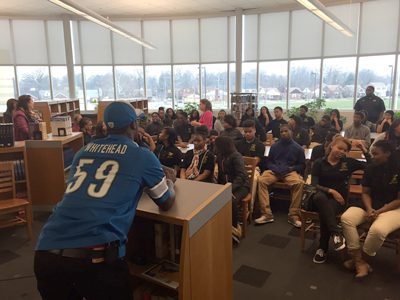 Whitehead is touring Metro Detroit schools and talking to students in six communities (typically in grades three and up) about the importance of education, setting personal goals and having a healthy approach to life as part of a partnership with the Michigan Department of Health and Human Services.
The Detroit Lions linebacker – who takes his wife and son to most of his appearances – talks to students about what he calls a "Culture of Success." That means building a strong foundation with healthy habits, such as 60 minutes of exercise daily. That means choosing the right friends, not letting the "crabs in a bucket" pull you down. That means finding support everywhere you can, whether it is from coaches like Whitehead had, tutors, mentors, school staff or other adults in the community.
The idea to have Whitehead talk to students emerged as MDDHS and its Community School coordinators as well as the Pathways to Potential success coaches wanted a speaker who could both inspire and relate to students, organizers said. Studies show ninth-grade performance is a good indicator of whether a student will ultimately graduate from school and how they'll do beyond that point.
Whitehead donates his personal time to this cause, one that is near and dear to his own situation. In his casual conversation with the students, Whitehead admits he made some mistakes in high school and he had to work doubly hard to fix them to create a bright future.
For example, he told the Class of 2019 that he was one of five children who were raised by a supportive and hard-working single mom. He had a lot on his plate, Whitehead said, including athletics, education and supporting his siblings as best as he could. "Family is all you have," Whitehead said, so he wanted to be close to his family.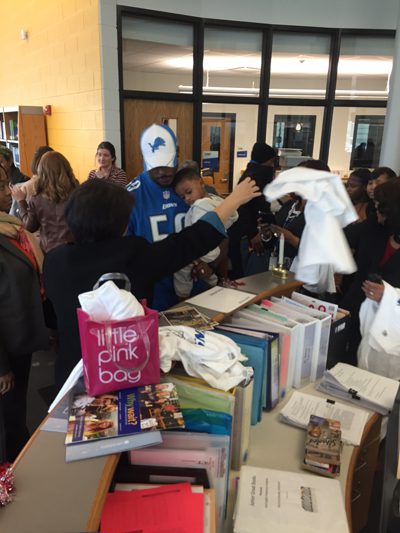 Yet, like most young men, he decided to take the easy path in high school. His grade point average dropped from a modest 2.3 in his freshman year to 1.4 in his junior year. Whitehead knew he wasn't fulfilling his potential and he needed a change. He wanted to go to college desperately and to continue in his athletic career. So that meant studying hard.
"I wanted more for myself," Whitehead told the students, who tried to look cool but were listening intently. "I had to make some tough decisions. … If you let those crabs in the bucket pull you down, that's where they stay and that's where you stay."
So he transferred to another high school, got his GPA up to 3.66 for his senior year and turned to his high-school coach for guidance. "He kept me steady in the boat," Whitehead said. "He told me, 'Take care of your business on a daily basis and everything else is going to fall into place.'"
So while his time in the National Football League is precious to him, Whitehead said he has his head on straight. Attending Temple University, earning his degree in Criminal Justice and taking care of his children and siblings remain his greatest work.
"What I learned in that classroom at Temple – that's mind. That degree can never be taken away from me," Whitehead said. "Every day, you have to push forward. When you wake up every day, you have to understand that it's your job to take advantage of that day."
So while the average "Not For Long" or NFL career is about two years, Whitehead said he knows making his life well rounded is just as impressive as his football days.
"When I'm on that field, I concentrate my effort. I give it my all; I leave it all out on the field. That's because I don't want to live with any regrets," Whitehead said.