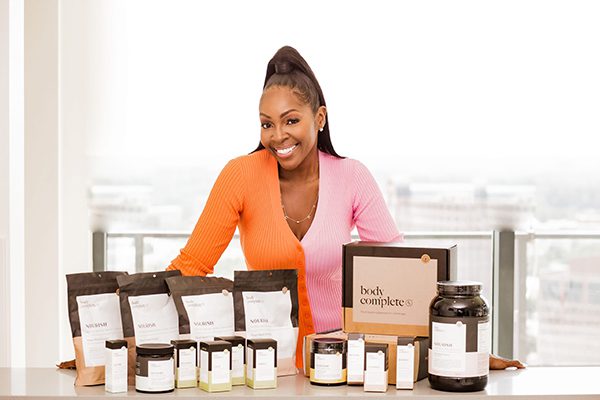 Growing up, Samia Gore wasn't raised on healthy eating habits. Her stepfather passed away from diabetes when she was 15 and at the time, it was the norm to eat carbs and high-fat diets, especially in the Black community. That was the early 1980s.
Fast forward to 2014 and at 31, Gore was ready for a transformation.
After having four children, she didn't feel like her best self. So, she embarked on a health journey that would take her from a government job in HR management for the Department of Veterans Affairs to a healthy and fit CEO of a million-dollar company.
"After having my fourth child, I picked up a considerable amount of weight. I went on to claim myself after having four children," said Gore.
When she decided to make her change, she took to social media to document her weight loss and for accountability. That's when she realized there were others out there who shared her struggles.
"I set a number on the scale originally, but as I went thought this journey of weight loss, it started to turn more into a lifestyle and how can I build my lifestyle habits. You have to find balance. Build a lifestyle. That's what it became for me," she said.
During her transformative time, she started her company, BodyComplete RX. Beginning with supplements, BCRX products are created by Black, female physicians and nutritionists.
"None of the others are made by black women. I include sweet potato and beets to combat diabetes and promote heart health. Anybody can use our supplement, but it's the only product on shelves made by a Black woman for other women of color," said Gore. "I started with weight management products and have since expanded to include all body needs like vitamins, collagen and pre-workout powder."
BCRX took off and in 2018, Gore left her job at the federal government. As more people used her plant-based products, business grew. In 2021, BCRX became the first Black, female-owned supplement company to break significant ground in the male-dominated, nutritional supplement industry and boasts $10 million in annual sales.
"Entering the wellness space, I will say in the beginning I was a fish out of water. I didn't see anybody in the space that looked like me, so for me to lead a brand into The Vitamin Shoppe is incredible. It's inspiring to me, and I just want to be able to inspire others and let other women know no matter where you come from or whatever your past looks like, you can definitely do this."
Sharon Leite, CEO, The Vitamin Shoppe, said in a conversation with Gore for the Founder Spotlight video series produced by The Vitamin Shoppe, "[She] certainly sent a message around perseverance and grit and determination. I think [her] story is quite inspirational and I'm sure there are many young women out there, specifically Black women, that they can look up and say, 'Hey, there's somebody like me that can do this.' And I think that's absolutely fabulous."
A Michigan native who lives in Washington, D.C., Gore is reminds people that her products aren't a quick fix. It's healthy lifestyle habits in addition to BCRX products that show the best progress.
"It's a continuous journey," Gore said. "I picked up 50 pounds in the pandemic and I shared the journey of taking that off. Once you adapt a healthy lifestyle, it's not hard to get right back on track. The way I cook now is so different from the way my mom cooked. It's really about what I had to unlearn."
In 2022, Gore is looking to expand the reach of BCRX even further.
"We're going to look for what our customers need and how to be more innovative in that space. We're doing a pop-up tour in the summer of 2022 in a live-event setting," she said. "Last, I'm working on a special project and launching our first ever BCRX smoothie bar. It will be a physical space where you can get a great workout and a great smoothie."