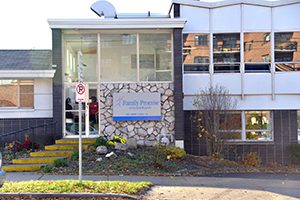 Grand Rapids, Mich. – Family Promise of Grand Rapids, whose mission over the past 25 years has been to end homelessness, has helped nearly 4,000 families find a place to call home. The organization has been able to empower parents with hope, encouragement, and the connections they need to create a better future for their kids, all while ending the cycle of homelessness. Knowing not every family can be placed in a home immediately, Family Promise also provides emergency shelter while other housing opportunities are explored.
Additional stabilization services, along with Family Promise's network of partners, have allowed the nonprofit to help these families build futures. Every week, almost 150 Family Promise volunteers work with local families experiencing homelessness. Over the years, these family stabilization services have impacted nearly 6,000 children and 90% of families the nonprofit has served in the past 25 years have made their way home.
"Since starting work with Family Promise in 2009, I have seen the significant impact for families through the work we do," said Cheryl Schuch, CEO for Family Promise of Grand Rapids. "We are proud of the innovative solutions we have implemented over the past 25 years but knowing that there is an ever-evolving need for housing and shelter here in Grand Rapids, we are laser focused on meeting the critical need we see each day."
Family Promise is hoping to ensure that while they work on prevention and housing efforts, those in danger each night will have a safe place to stay. To meet the need for shelter as it currently stands, the Greater Grand Rapids community needs 85 rooms of emergency shelter nightly. Currently there are only 45 rooms available for emergency shelter dedicated to families who are experiencing homelessness. Family Promise and its partner organizations will continue to work tirelessly to provide the remaining rooms.
Tiffany Washington's family is one of many that Family Promise of Grand Rapids has helped over the past 25 years. Each family is unique and has its own set of circumstances, but Family Promise's team of dedicated staff members work hard to get families' home. Tiffany was able to get into emergency shelter through the Interfaith Hospitality Network (IHN) program, which helped her secure her two sons in school and find herself a job locally in Grand Rapids. Tiffany accomplished all this through the program within nine days of asking for help.
"These are REAL life people who are working to make many families' world a better place," said Tiffany Washington, Shining Star Award Recipient, and Family Promise Advocate. "When my son was diagnosed with kidney failure at age 13, I knew I had to get him into a stable home environment to ensure he made it on the transplant list. Family Promise's team provided shelter for me and my two sons into the IHN shelter program and checked in on us each day. I knew from that moment on that everything was going to be okay."
In the next 25 years, Family Promise of Grand Rapids will define success as meeting the community's need for emergency shelter and investing heavily in affordable housing options, prevention services, and early childhood development efforts. Investments in proactive solutions, rather than reactive ones, can make achieving these goals possible. Family Promise has grown because of the explosive need to help families experiencing homelessness within our community, as housing becomes more of a scarcity.
To continue supporting Family Promise of Grand Rapids or to learn more about getting involved, please visit https://www.familypromisegr.org/ and follow along on Instagram, Facebook, and LinkedIn for opportunities.