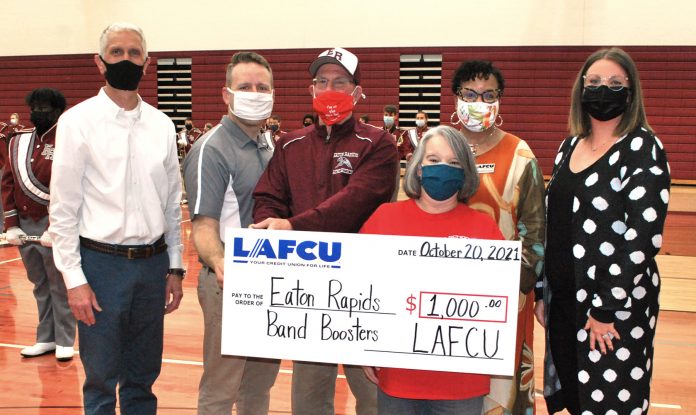 LANSING, Mich. — LAFCU presented a $1,000 donation to the Eaton Rapids High School Band Boosters at the school's Oct. 20 Greyhound Spectacular, an indoor marching band concert.
The donation marks the 12th year that the Michigan credit union has provided $1,000 to a high school band in fulfilment of the entertainment sponsorship for the Lansing Regional Chamber of Commerce Annual Dinner.
"This is a complete surprise for which we are extremely grateful," said Adam Gumbrecht, Eaton Rapids High School band director. "Having the support of a local business demonstrates to students and their families that what we are doing is important to the school and to the community."
Kelli Ellsworth Etchison, LAFCU chief marketing officer and chief diversity officer, said, "LAFCU has the philosophy of being our members' credit union for life."
"This means providing the best financial services for our members throughout their lives as well as working to improve the quality of life in their communities," Ellsworth said. "High school bands contribute to a vibrant community. For students, the bands are a source of pride, accomplishment and life-long friendships. For others, the bands embody the essence of school and community spirit."
Jen Eck, Eaton Rapids High School Band Boosters president, said the donation will help purchase instruments and maintain marching band uniforms.
Tim Daman, Lansing Regional Chamber of Commerce president and CEO, said, "We're proud this sponsorship can strengthen one of the threads that ties a community together. At the core of a thriving community is the feeling of belonging … rooting for the home team."
Other band programs that have received donations via the LAFCU-chamber partnership over the years include Lansing Eastern, Everett and Sexton high schools, and Charlotte, Holt, Mason, Perry, St. Johns and Waverly high schools.