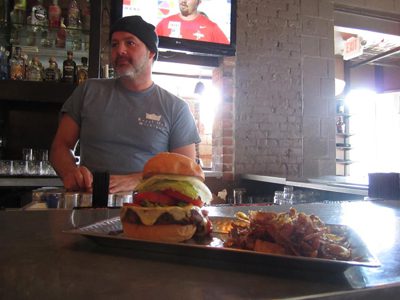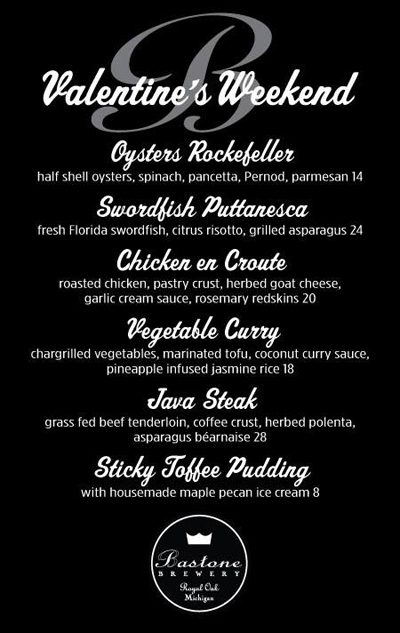 Chef Robert Young at Bastone Brewery in Royal Oak knows one thing about eating out on Valentine's Day: The way to your sweetie's heart is through his or her stomach.
So if you need an idea of where to go for that special night out, you know that Chef Young has your back. From brand new seasonal beers and a special menu for the weekend of Valentine's Day – things are getting sweeter at Bastone Brewery and Vinotecca Wine Bar.
However, if you need a tasty treat for your darling that you can make at home, then Chef Young has a sweet gift for you. Here is his Sticky Toffee Pudding recipe. Give it a try. Let's just say that any Valentine worth his or her salt will be impressed that you tried. And you can always take them out to sample the real thing, right?
Sticky Toffee Pudding
Pudding:
1/4 cup (1/2 stick) unsalted butter, room temperature, plus more for pan
1 1/2 cups sifted all-purpose flour plus more for pan
1 1/2 cups chopped pitted dates (about 6 ounces)
1 teaspoon baking soda
1 teaspoon baking powder
1/2 teaspoon sea salt
1 cup sugar
1 teaspoon vanilla extract
2 large eggs
Sauce:
1 1/4 cups (packed) light brown sugar
1/2 cup heavy cream
1/4 cup (1/2 stick) unsalted butter
1 teaspoon brandy (optional)
1/2 teaspoon vanilla extract
Whipped cream or vanilla ice cream
Preparation
For pudding:
1. Preheat oven to 350°F. Butter and flour Bundt pan. Bring dates and 1 1/4 cups water to a boil in a medium heavy saucepan with tall sides. Remove from heat; stir in baking soda (mixture will become foamy). Set aside; let cool.
2. Whisk 1 1/2 cups flour, baking powder, and salt in a small bowl. Using an electric mixer, beat 1/4 cup butter, sugar, and vanilla in a large bowl to blend (mixture will be grainy). Add 1 egg; beat to blend. Add half of flour mixture and half of date mixture; beat to blend. Repeat with remaining 1 egg, flour mixture, and date mixture. Pour batter into mold.
3. Bake until a tester inserted into center of cake comes out clean, 40-45 minutes. Let cool in pan on a wire rack for 30 minutes. Invert pudding onto rack.
For sauce:
1. Bring sugar, cream, and butter to a boil in a small heavy saucepan over medium heat, stirring constantly. Continue to boil, stirring constantly, for 3 minutes. Remove from heat; stir in brandy, if using, and vanilla.