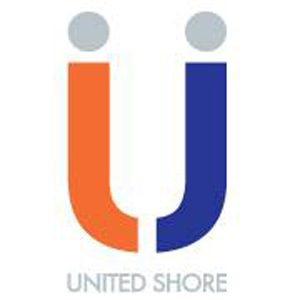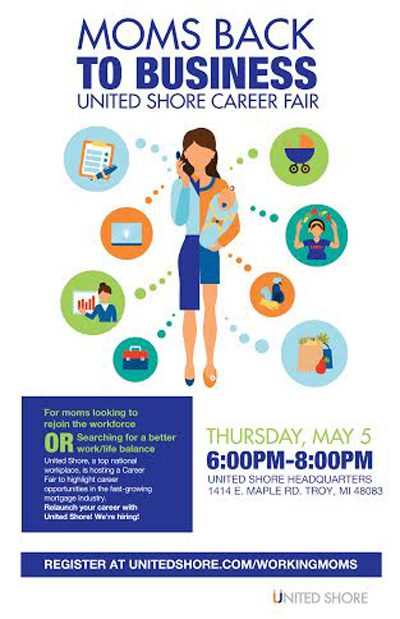 When a couple marries and decides it is time to start a family, one of the more challenging conversations some husbands and wives have is whether one of them is going to stay home to care for their future children.
If the woman decides to take a leave from work or a long-term break, she can face an uphill battle when she is ready to rejoin the workforce. Some employers may question how long she has been out of the workforce – and everyone can feel frustrated as a result.
But those stay-at-home moms looking to jump start a new career or better work-life balance may want to look at a Career Fair aimed right at them.
In honor of Mother's Day, United Shore will be hosting the United Shore Career Fair from 6-8 p.m. May 5 to highlight the many career opportunities that exist for stay-at-home moms looking to return to the workforce, as well as working moms interested in a better work/life balance.
United Shore, regarded as a top local and national workplace, and home to the #1 wholesale lender in the nation, is rapidly growing – with a goal of hiring approximately 600 new team members in 2016. There are open positions in a number of areas, including but not limited to sales, IT, operations, finance, underwriting, and legal/compliance.
Career Fair attendees will be able to meet United Shore Team Leaders and the Talent Team, and tour the headquarters to learn more about the company's culture and career opportunities. Attendees are encouraged to bring copies of their resume, if possible, as on-the-spot "mini interviews" will be available.
The Career Fair will be held at United Shore headquarters, 1414 E. Maple Rd. Troy, Mich. 48083. Interested participants should register at www.unitedshore.com/workingmoms.
The timing is good for such an event – the economy is doing well, companies are still hiring and women who have a break in their resume are finding employers interested in their skills sets, employment and human-resource experts say.
There are a fair number of stay-at-home moms across the United States. In April, the U.S. Labor Department release its "Employment Characteristics of Families" report for 2015, the most recent data available. According to the Labor Department, the number of families with stay-at-home moms has gone up since the 1990s. In 2015, fathers worked outside the home and mothers did not in 30.8 percent of married-couple families with children. That is unchanged from 2014 and up from 28.5 percent in 1995, according to the Labor Department.