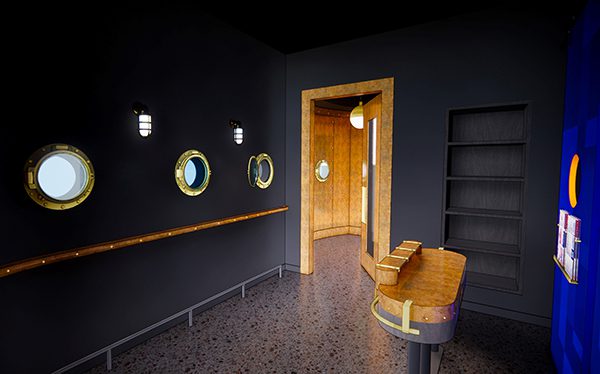 BIRMINGHAM, Mich. – When co-owners Beth Hussey and Emmele Herrold opened Hazel's in 2018 they couldn't have predicted that the restaurant would shift its full focus to become the fresh-caught in-season seafood spot it is today.
In February, Herrold and Hussey are taking another step toward reflecting their restaurant's true experience by investing in a major renovation project.
The restaurant's front grotto on Birmingham's Peabody Street remains fully intact, but the interior entryway will be reconstructed to feature an airlock – necessary to better warm the space during these colder months – as well as coastal-inspired details.
The small bodega that once greeted guests upon arrival will be removed to make way for a more seamless seafood restaurant experience. Hazel's hostess stand will be moved farther along the hall and against the entry's north wall.
"We have got that great grotto," said Hussey. "When you come through the copper doors you should get the feeling you're about to enter into a memorable dining experience."
And that's just what the renovation – designed by von Staden Architects in Royal Oak – will create this February.
The entire airlock will be clad in copper and portholes salvaged from actual ships will adorn the entry. Some portholes will peer into Hazel's vast kitchen. Others are backed with shadowboxes to create coastal scenes. Black Diamond Construction will complete the project.
"It's going to feel more like a seafood restaurant for sure," said Hussey. "The staff is so excited. It's going to be an impactful change."
Not only will the renovation aid in creating a warmer, more insulated interior, it will provide a more cohesive and memorable experience for guests at Hazel's.
"In working on the new entry sequence at Hazel's, our challenge was to incorporate the restaurant's new branding as a seafood concept with the space's existing eclectic and funky décor," said Nicole Adler of von Staden Architects in Royal Oak. "The entry now has a strong nod to the menus' nautical inspiration, with vintage brass portholes showing glimpses of the different regions that the fresh fare is sourced from. Once you step through the front door, the new copper-clad airlock and streamlined entry act as a portal into a more sophisticated space – with the warm and welcoming restaurant that guests have come to love – waiting beyond.
Hazel's will close temporarily, Feb. 13-16, for the renovation. Hussey and Herrold mindfully chose these dates in an effort to minimize any disruption to business.
Please note that reservations are now open the weekend before and after Valentine's Day to accommodate guests who plan to celebrate.
"It's important to us that our guests receive the full-blown Hazel's experience from start to finish, any time they visit," said Hussey.