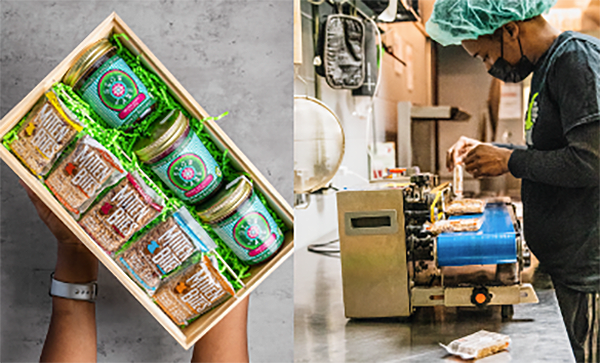 DETROIT — This holiday season, you can give gifts and give back all at once. Small Batch Detroit, a social enterprise powered by Detroit Food Academy, offers a selection of flavorful and nutritious snack bars called Mitten Bites, locally-sourced Michigan jams & jellies, called Slow Jams, and Holiday Gift Boxes combining the two. 
Each purchase supports meaningful employment and career opportunitiesfor DFA high school students and alumni. These young leaders participate in workshops, obtain certifications, and assume new responsibilities to earn increased roles and wages.
"Your support during these uncertain times makes sure that we can make an impact on youth and the future of our communities," said Small Batch Business Manager, local chef, small business owner and Advanced Facilitator at Detroit Food Academy, Le'Genevieve Squires. "These young entrepreneurs are making a difference in the local food ecosystem. It is more important than ever to uplift and empower them with professional development, life skill training, and most importantly pay them an equitable wage.
"Each purchase directly supports youth programming and employment while delivering to our mission; supporting Detroit youth with hands-on experience and training to launch their goals and aspirations," Squires added. "We want our youth to feel like they can do anything."
The Classic ($75.95) includes:
3 jars of Slow Jams
A beautiful wood crate box
Option for a personalized note
For larger groups of clients, co-workers, employees, family, or friends, Small Batch offers custom gift box combinations for any budget. To place your order, please visit smallbatchdetroit.com. For custom orders, please contact us at [email protected]. In 2021, holiday boxes were purchased and received by business owners across metro Detroit, Michigan, and as far away as California.