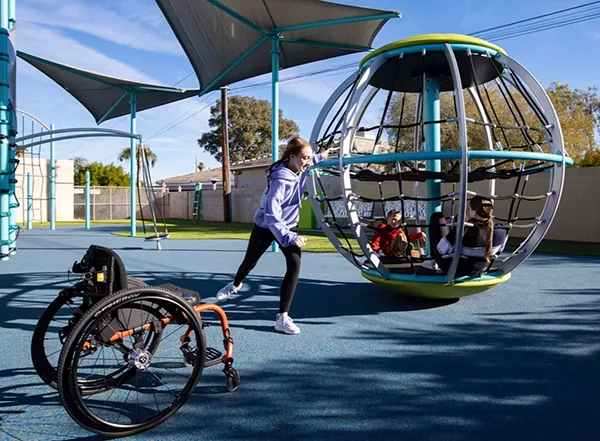 LANSING, Mich. – The James and Grace Lee Boggs School in Detroit will expand its public space with the creation of Boggs Park, a universally accessible park and playscape designed to prioritize nature, art, rest, and play through the anticipated success of a crowdfunding campaign. The Michigan Economic Development Corporation (MEDC) and the Boggs Educational Center Project Team announced the project today, which is being offered through the Michigan-based crowdfunding platform Patronicity.
If the campaign reaches its crowdfunding goal of $75,000 by July 17, the project will win a matching grant with funds made possible by MEDC's Public Spaces Community Places program. For project details and to donate, visit: patronicity.com/boggs.
"This project will create a universally accessible and innovative neighborhood park and provide new recreational opportunities for residents of this neighborhood in Detroit," said MEDC Executive Vice President of Economic Development Incentives Michele Wildman. "We are pleased to support and provide resources for this project to complete the space through our Public Spaces Community Places program."
The funding from this campaign will allow for the creation of this inclusive community park complete with a playscape, public art, as well as performance, gathering, and green spaces. The park's "Universal Design" recognizes the need for a broad range of options for community members of different ages, learning styles, and with variations in mobility. The space will include rich possibilities for gathering, relaxing, and playing including quiet garden seating, exciting and accessible play equipment, and terrain. This will allow ease of movement for inclusion in play as well as wheelchair-accessible picnic tables.
"The park designers understand that 'one size does not fit all' and the park reflects the diversity of people who will use it," said Dessa Cosma, executive director of the project's partner, Detroit Disability Power. "Specifically, this park considers the needs and preferences of people with different learning styles and different mobility, including various mobility equipment."
"Our park's "Universal Design" recognizes the need for a broad range of options for community members of different ages, learning styles, and with variations in mobility," said Boggs Park Co-Project Manager Shoshanna Utchenik. "At Boggs Park, 'you can't say you can't play'."
Public Spaces Community Places is a collaborative effort of the MEDC, the Michigan Municipal League, and Patronicity, in which local residents can use crowdfunding to be part of the development of strategic projects in their communities and be backed with a matching grant from MEDC. Communities, nonprofits and other business entities can apply at https://patronicity.com/puremichigan.
"The Michigan Municipal League is a firm supporter of placemaking projects happening in Michigan's communities," said Dan Gilmartin, CEO and Executive Director of the League. "Boggs Park will have a lasting, positive impact on the Detroit Eastside neighborhood for generations to come. This is what placemaking is all about."
The Public Spaces Community Places initiative started in 2014 with MEDC providing matched funding of up to $50,000 for community improvement projects throughout Michigan. As of April 30, 2023, MEDC has provided more than $11.4 million in matching grants. Since the launch of the program, 343 projects have been successful in reaching their goal, with more than $13 million raised from 65,483 individual donors. Communities have a 97 percent success rate in achieving their goals and earning matching funds.