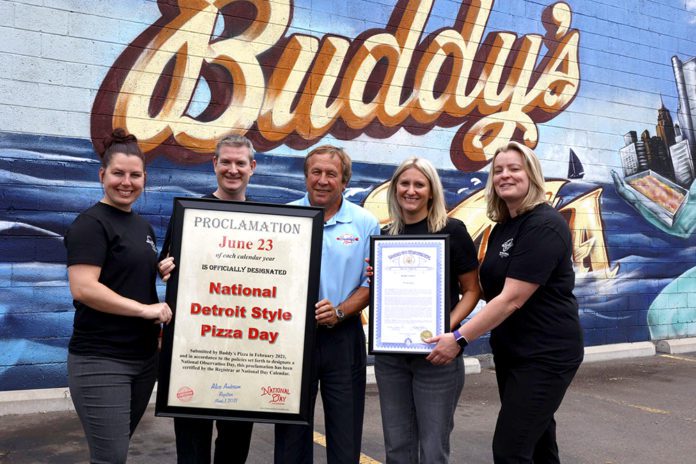 Detroit – To celebrate its 75th anniversary and the first annual National Detroit-Style Pizza Day on June 23, Buddy's Pizza, creator of the Original Detroit-Style Pizza and founder of the national day, partnered with pizzerias around the U.S. to give back to their communities.
\Each Detroit-Style pizzeria from around the country donated a portion of sales on June 23 to a local organization whose mission is to fight hunger and/or homelessness.
"Not only did we want to celebrate National Detroit-Style Pizza Day and raise awareness about a pizza style that's changing the industry and growing in popularity nationwide, but we also wanted to ban together and give back to nonprofits that were greatly impacted by the pandemic," said Wes Pikula, chief brand officer of Buddy's Pizza. "Supporting the community is a core value for Buddy's, and we're thrilled to have partnered with great companies from all over the U.S. who share our mission."
To make it an official Michigan observance, Gov. Gretchen Whitmer recognized Buddy's for their contribution to the community over the last 75 years with an official proclamation for National Detroit-Style Pizza Day.
In total, the group raised just over $10,500 that will be donated to nonprofits local to and chosen by the pizzerias.
On June 23, the following donations were made to benefiting nonprofits listed below by the participating pizzerias:
June 23 is also known as Buddy's Pizza Day in Detroit, which was recognized by former Detroit Mayor Dave Bing and Detroit City Council to credit Buddy's Pizza for putting Detroit on the map and showcasing the city's innovation. The new national day allows Detroit-Style pizzerias around the nation to honor the history, style and roots of where it began, all for a good cause.
Buddy's Pizza opened in 1946 at the corner of Six Mile and Conant in Detroit, previously a speakeasy called Buddy's Rendezvous. Using a bit of ingenuity and square blue steel pans intended to hold nuts and bolts at local automotive plants, Gus Guerra, along with friend and employee Concetta "Connie" Piccinato, created the first Detroit-Style Pizza – a square-shaped pie that was the first of its kind in a world of round pizza.