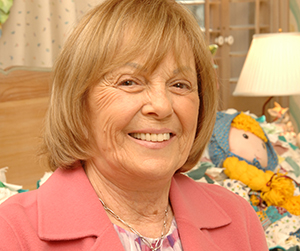 DETROIT — For decades, the Van Elslander family has been dedicated to ensuring the highest quality of care is available for patients and families in local communities.
A recent, multi-million dollar investment from Mary Ann Van Elslander will continue a family legacy built on kindness, compassion and concern for others. At the same time, it will transform care for women and children who turn to Ascension St. John Children's Hospital for medical services. The extraordinary gift from Mrs. Van Elslander will support the "Your Child, We Care" campaign at Ascension St. John Children's Hospital, bringing the campaign to its minimum goal of $18 million to enhance privacy, improve comfort and elevate the care experience for families.
Her gift is part of a multi-million dollar renovation that will expand the inpatient Pediatric Unit and create a dedicated entrance for women and children arriving at the hospital.
A native of Grosse Pointe and the mother of 10 children, Van Elslander has always had a passion for helping others. For years, she was a familiar face in the Neonatal Intensive Care Unit (NICU) at Ascension St. John Children's Hospital, where she often volunteered and was recognized for comforting families and newborns.
Her time in the NICU inspired her to support the creation of the Mary Ann Van Elslander Neonatal Intensive Care Unit to ensure families had access to the best care possible in the finest setting.
"My passion has always favored the well-being of babies and children," Van Elslander said. "Having been blessed with a large family, I am delighted to support Ascension St. John Children's Hospital, which has done a wonderful job serving our community's families and will do so for generations to come."
Now, her name will serve as a beacon of hope for families arriving at Ascension St. John Hospital. The Van Elslander Women's and Children's Entrance will provide comfort and convenience for expectant mothers and children needing emergency services, so they will no longer have to enter through the main emergency center.
Additionally, the Mary Ann Van Elslander Pediatric Unit will be established with a focus on added privacy for children and their parents with amenities that match the high quality of care provided.
"The gift from Mary Ann Van Elslander hallmarks her compassion and dedication to our smallest, most vulnerable patients," said Kevin Grady, MD, regional president and chief executive officer, Ascension St. John Hospital. "We truly are grateful for her commitment and for the impact it will have on the lives and health of those in our community."
Debbie Bellovich, co-chair of the campaign and a grateful mother, said Van Elslander's "transformational gift" helped the campaign reach its minimum goal and will "allow us to continue to raise dollars" for technology and program needs.
"As one of the many parents who has received critical pediatric care from Ascension St. John Hospital, I am so grateful for Mrs. Van Elslander and all she has done to inspire gifts of grace at the hospital and in our community," Bellovich said.
Ascension St. John Children's Hospital is a fully accredited "hospital within a hospital" providing high quality acute and critical care services for patients from birth through 21 years of age. Board-certified pediatric physicians are committed to improving the health and quality of life for children and families who turn to the hospital for care.
In addition to a new women's and children's entrance and inpatient pediatric unit, the expansion and renovation will create a dedicated pediatric emergency center, which will enhance privacy and comfort for children and their families. The Pediatric Intensive Care Unit will also be relocated to optimize efficiency of care.
"Mrs. Van Elslander's steadfast support is a testament to her dedication to helping those in her community," said Marcus DeGraw, MD, chairman, Department of Pediatrics and co-chair of the campaign. "Our children and families deserve a more comfortable healing environment that matches the already exceptional care theyreceive. This gift and campaign will allow us to take healthcare to the next level."
Ascension St. John Foundation Chief Development Officer Rebecca Sellers said, "It is an honor to have the support of Mary Ann Van Elslander, and we are so pleased she has chosen to invest generously in this initiative. We truly cannot thank her enough for this gift and for the difference it will make in the lives of our young patients."
The expansion and renovation of pediatric services will kick off this spring with a groundbreaking celebration to launch construction. Other events are planned throughout the year to highlight Ascension St. John Children's Hospital and raise additional funds for technology and program needs.
For more information about the Your Child, We Care campaign, please contact Lisa Pinkowski at 313-343-7480.