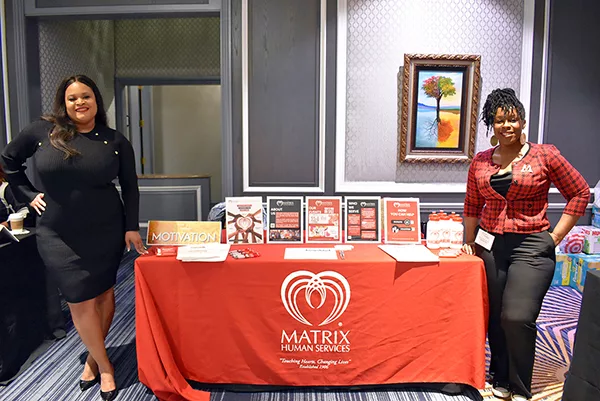 Detroit, Michigan – Matrix Human Services President and Chief Executive Officer Brad Coulter announced the appointments of Monique Phillips as Vice President of Development & Marketing and Monique Riley as Director of Marketing, in addition to several others who will support the organization's leadership team efforts.
Matrix Human Services is a 117-year-old nonprofit organization in Detroit that provides essential programs, services, and wrap-around support to help the city's most vulnerable citizens rise out of poverty and toward self-sufficiency. It is one of the city's largest nonprofits, with over 450 employees. Matrix programs are funded through grants and donations to support families and individuals of all ages, from prenatal to seniors.
"We are pleased to have such talented individuals like Monique Phillips and Monique Riley join our organization and help Matrix continue to move toward our goal of breaking the cycle of intergenerational poverty," said Coulter. "We have also added additional support staff for the leadership team so that we can better communicate and engage with our community partners, supporters, and of course, the many people within the community we serve."
Phillips has led large-scale nonprofit development initiatives for over a decade. She has a proven record of securing major corporate, government, and private foundation support for nonprofits by utilizing best practices in fundraising, including effective program execution, management of business operations, effective budget planning, research and analysis, and benchmarking results.
With a passion for helping nonprofits raise funds, she developed M.P. Consulting Group, LLC. She has also served as Corporate Development Officer in the Mayor's office with the city of Detroit, securing over $400M annually in philanthropy, and as Senior Associate Director of Stewardship and Leadership, Southern Division with the Anti-Defamation League in Atlanta, GA.
Phillips holds a Master of Public Administration degree with a focus in Public Policy from Clark Atlanta University and is a graduate of Oakland University with a Bachelor of Arts in Journalism. She is a certified Lean Six Sigma Green Belt.
Riley joins Matrix as its first Director of Marketing. As a marketing communications leader with over 15 years of experience in managing brand reputation, music, media relations, and event curation, Riley offers a wealth of knowledge to assist in developing strategies, increasing brand awareness, and building relationships.
Intrigued by the intersection of media, culture, and technology, Riley has represented brands, companies, and organizations ranging from grassroots to Fortune 500. She earned her bachelor's degree from Saginaw Valley State University with a concentration in marketing and sociology. She recently graduated from Eastern Michigan University's College of Business with a Master of Science in Integrated Marketing Communications.
Beginning in media and entertainment as editor-in-chief for K.I.M. (Keep It Moving) magazine for Riley Media Group (now M.U.S.A.R.K.:Musicians, Artists, Relationships, Kinetics), Riley later expanded into marketing growth, public relations, and sales roles for Girl Scouts, AT&T, and more. Going on to win several awards in business with the NAACP, National Action Network, and more.
Phillips and Riley join CEO Brad Coulter's Matrix management team, which includes Chief Financial Officer Catherine Calvano; Vice President of Human Resources Tamika Johnson; Vice President of Early Childhood and Head Start Cristal Clausen, Vice President of Community Health Services David Perkins; Matrix Division Director of Youth Services, Brad Maliszewski; and Matrix Director of Quality, Treska Seay.