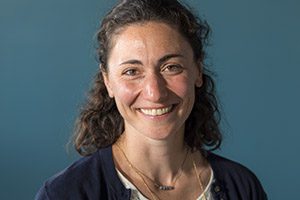 DETROIT — Lily Hamburger joined Invest Detroit as the associate director of the Business Support Network, a newly created position that will work to advance the goals of a recent partnership with the New Economy Initiative (NEI), a project of the Community Foundation for Southeast Michigan (CFSEM), to strengthen and build a support network for Wayne County small businesses (2 to 50 employees), primarily led by historically underserved individuals and teams (including immigrants, people of color and women).
This work is done through a network of business support organizations that offer accessible and affordable capital, practical assistance, and trusted connections to the targeted small businesses.
The Network Director Office at Invest Detroit led by Paul Jones was created in partnership with NEI to provide a focused stewardship role for the Network. Working with the NEI Team, the Network Office's role is to ensure the network of support for underserved small businesses in the target geography is known, relevant, accessible, and easy to navigate for business owners and those assisting them.
Hamburger is a committed advocate for entrepreneurs and business owners in Detroit. Most recently at the Detroit Economic Growth Corporation (DEGC), Hamburger served as the Senior Director for Detroit Means Business, convening partners to optimize support and opportunities for business owners through the pandemic and beyond.
At the DEGC she also managed a citywide retail opportunity study and directed the District Business Liaisons. Her work focused on providing business owners access to the resources they need to thrive and improving the small business environment in Detroit's neighborhoods. Hamburger attended the Ross School of Business at the University of Michigan, where she was an MBAs Across America Fellow and the recipient of the Frank S. Moran Leadership Award. She holds a BA in Environmental Studies from Middlebury College.
"Lily is a tireless advocate for Wayne County's small business community and believes in its ability to make a powerful impact on our community. She has a unique talent for galvanizing the ecosystem and will add immediate value to our team.," said Paul Jones, network director at Invest Detroit. "With her unique mix of passion and experience, she is the perfect addition to this innovative partnership focused on the equitable and inclusive success of our local small businesses."