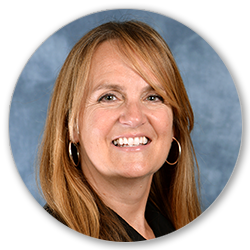 With over 35 years of experience in various roles in the health and well-being industry, Cindy has worked directly in health care for the past 22 years. In her current position as director of Blue Cross Well-Being, she is responsible for the delivery of member and employer-facing well-being programs and speaks nationally on well-being strategy and program development.  Prior to coming to Blue Cross, Cindy held positions within a health system, academia, and a consulting company specializing in worksite program development and evaluation.
She earned a bachelor's degree in exercise physiology and biology from Spring Arbor University and holds a master's degree in kinesiology with a double major in biology and exercise in sports science from Michigan State University.
Most cherished accomplishments – her two sons who are third-generation MSU grads and her rushed climb of Mt Hood before the onset of an electrical storm.