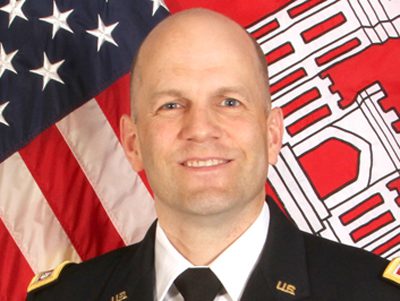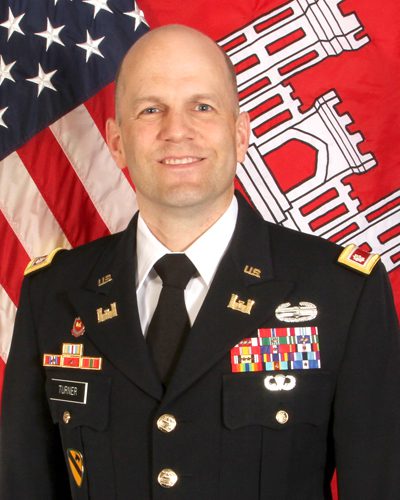 With an $80 million program and 400-plus employees, the two-year goal for Lt. Col. Greg Turner,  who is taking over a new post in the U.S. Army Corps of Engineers, is simple: getting to know the names of everyone within his district. Every single one.
"My command philosophy is mission first, people always," Turner said. "If we don't take care of our people, we won't be able to do these missions."
As Detroit District Engineer, Turner, along with the district's more than 400 employees, is responsible for an area which includes all of Michigan and parts of Minnesota, Wisconsin and Indiana – a total area of 82,000 square miles of land with 4,000 miles of Great Lakes shoreline. Approximately 14 million people live within the district's boundaries.
Turner said he has long held the dream of being a commander, so joining the Detroit District is thrilling and something he is looking forward to doing as his command started this summer. Another of his main goals is to develop other people's dreams
"Across the district, we have inherent in our culture a desire to develop our workforce and its talent," Turner said. "We're always recruiting, and as we put people into new positions we also want to expose them to new things, broaden their interests and get them ready to try new things as well."
Previous to joining the Detroit District, Turner most recently served as the Assistant Director for Civil Works and as the Secretary of the General Staff for Headquarters for the U.S. Army Corps of Engineers. He also had served as battalion operations trainer at Fort Irwin's National Training Center.
Turner has been a "boots on the ground" soldier, acting as the Battalion Operations and Training Officer for the 40th Engineer Battalion in Afghanistan. He has received various awards and decorations throughout his career, including the Bronze Star Medal.
He also graduated from Penn State University, where he was commissioned through ROTC as a distinguished military graduate.
One of the best things about joining the Detroit District, typically a two-year assignment, has been exploring the area, Turner said. Recently, he went out on a tugboat in the Detroit River to explore the U.S. Army Corps of Engineers area around Fort Wayne, which he says was a great adventure.
Along with focusing on recruiting and training at the Detroit District, he will be working toward getting the funding to add to the Sault Ste. Marie locks, a mission started by the previous commander at the U.S. Army Corps of Engineers in Detroit.
The district maintains 611 miles of channels and 95 harbors and connecting channels on Lakes Superior, Michigan, Huron, St. Clair and part of Lake Erie. Much of this work is carried out through four area offices located in Duluth, Minn., Detroit, Mich., Sault Ste. Marie, Mich. and Appleton, Wis./Grand Haven, Mich.
Supporting the Great Lakes Navigation System, the Detroit District, established in 1841, investigates, plans, designs, constructs, operates and maintains congressionally authorized water resource projects related to navigation, flood control, hydropower production and recreation. The district also provides support to tribal nations, international organizations and other federal, state, and local government agencies. As a steward of the environment, the Detroit District exercises regulatory authority over wetlands adjacent to navigable waterways and completes ecosystem restoration projects throughout the region.