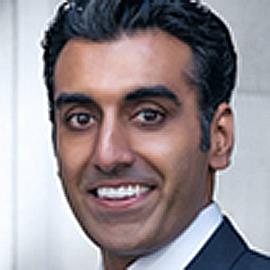 By Punit Dhillon
May 16, 2013
As the boss, you're constantly looking for ways to make your business more productive. Here's some advice: Take a close look at the happiness and health of your employees. If either is lagging, chances are good it's hurting your bottom line.
How do I know? As president and CEO of a company working on new treatments for advanced-stage skin cancers, I witness the power of promoting a happy, healthy workplace every single day. Your employees need to be enjoying themselves; if they aren't genuinely glad to be working for you, their work will suffer. Here are some specific tips.
First and foremost, you, as boss, need to set a positive example. Leaders need to show why they are leaders if they expect to have happy, productive employees. You should stay focused on goals and always work to your highest capacity, regardless of what is going on around you, €"and encourage your workers to do likewise. This will work wonders for productivity and workplace mood.
Try to avoid confrontations with your employees, and take care that none arise among them. If there is an issue that you feel needs to be addressed, create a forum in which to resolve it. Communicate with your employees often, and create an open environment in which they can express themselves and their ideas for improving the workplace. You should also coach your employees on how to outline their priorities and create a feedback mechanism to ensure alignment of these priorities to corporate objectives; this coaching process is almost always favorably received by employees and ensures timelines and milestones are met. Sometimes, even a little humor injected into a stressful situation goes a long way.
Furthermore, in addition to constructive criticism, don't be afraid to offer praise. I think some bosses are reluctant to compliment their employees because they are afraid it creates slackers. In my opinion, this is an impoverished way of viewing relationships and people. I believe in giving very public high-fives and all-staff recognitions for a job well done. I make sure to let a valuable employee know that I'm honored to be associated with someone who is choosing to share their talents with me even though I'm paying them to do so. I also encourage my employees to take credit for their accomplishments; a little bragging can be a good thing and a confidence booster. In a receptive environment, it can be inspirational for one and all.
As I've suggested, happiness is just half of the equation for boosting productivity; employee health is the other. My office provides communal bicycles, and I urge my staff to use them to bike to lunch. I also encourage my workers to take midday walks and runs and to engage in a range of other exercises. We also participate in a weekly step count challenge thanks to the ingenious people at Fitbit who have designed a low-profile pedometer with social features every week the person with the highest step count gets a $10.00 gift card that is recreation-oriented. In addition, unless we have an impending deadline, my staff works from 8 am to 6 pm Monday to Thursday and gets out at 1 pm every Friday €"because I know (as should you) that productivity decreases significantly on Friday afternoons.
In addition, your employees (and you) should be sure to get at least eight hours of sleep every night, €"a true challenge in a world awash with electronic diversions, but very important. Moods will definitely suffer due to lack of sleep; to work at highest capacity, everyone needs to be adequately rested.
Improving diet will increase the number of days your employees are on the job and the quality of their work. There is absolutely no drug, pill or supplement that will improve health and mood more than an enhanced diet. Provide your employees with healthy snacks in the office such as fruits, vegetables and other whole foods; we encourage eliminating sugar and refined products from our choices at the office.
Heeding the rules I've outlined above is a virtual guarantee that your employees' happiness and health will increase. Even if a perfectly satisfied workforce is unattainable, it's possible to keep a smile on your workers' faces and it's a goal well worth working toward.
Punit Dhillon is co-founder, president and CEO of San Diego-based OncoSec Medical Inc., a company developing its advanced-stage ImmunoPulse DNA-based immunotherapy and NeoPulse therapy to treat solid tumor cancers. Email him at [email protected].