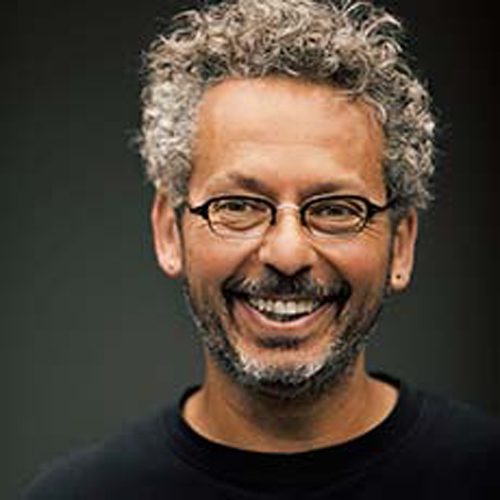 Dressed in jeans and a Camp Bacon t-shirt, Ari Weinzweig somberly reads from a couple of sheets of paper what sounds like a news account of his presentation at the inaugural Positive Business Conference at University of Michigan's Ross School of Business May 16, 2014. His presentation, "Creating a Vision of Greatness," was part of the Positive Leader Briefings presented on the second day of the event, held May 15-17, 2014 on campus.
"What I really want is not only risky, but revolutionary," he intones as he paces across the auditorium stage. When he finishes reading the vision a few minutes later, he visibly lightens up and smiles, telling the audience that "visioning can literally change our lives."
That would be an understatement for Weinzweig, CEO and co-founding partner of Zingerman's in Ann Arbor, Mich., who is at the helm of what was termed the "Coolest Small Company in America" in 2003 by Inc. Magazine.
But it wasn't all that easy, according to the Weinzweig. As a student at U-M he had no vision of what he wanted to do, but on March 15, 1982, he and Paul Saginaw opened a deli with 29 seats in what he tells the audience was a "bad location" in a historic building near the Ann Arbor Farmers' Market in a city where other delis had failed. Today, Zingerman's Deli is easily considered an institution.
As their success grew and the years went by, Paul Saginaw popped a question – one might say 'the' question – to Weinzweig. "In 10 years, what are we doing?" While Weinzweig had no ready reply – in fact, he says he just wanted to go back to work — it didn't stop him and Saginaw from seeking the answer.
"We spent a whole year working on Zingerman's 2009 [vision]. We said we would have nine businesses," he tells the audience. And the vision has come to pass almost perfectly. Zingerman's has grown into a Community of Businesses with eight businesses, 600 employees and annual sales of more than $45 million. Driven by their vision for the year 2020, the Zingerman's Community of Businesses expects to grow into 12-18 businesses, and all still based in Ann Arbor.
Without the vision process used at Zingerman's Weinzweig says, "I wouldn't be here talking to you. We have a clear vision for 2020. We use vision for every business, every project, every person. It's a way to let the rest of the world to help you. It's a way to get past the thought barrier."
Vision, Weinzweig postulates, "is for a point in time." He reads from a handout provided to each audience member titled, "Zingerman's natural law of business #1 – an inspiring, strategically sound vision leads to greatness." The ideas are taken from his book, "Zingerman's Guide to Good Leading series – A Lapsed Anarchists Approach to Building a Great Business (Part 1)." He's already written "Being a Better Leader (Part 2)" and Part 3 will be released later this year.
He's clearly an evangelist not only for the Zingerman's brand, but also for the vision process, one that uses something called a "hot pen" and has yielded impressive results. He's also adamant about the four things a vision isn't.
Vision is not a:
mission statement
strategic plan
something that you hire a consultant to write for you
something that's only used at the top of the organization
As Weinzweig winds down, he picks up a book and reads a postscript from an essay he wrote for the tome. "Ten years from now visioning is an extrinsic part of what progressive organizations do. Ann Arbor will be the capital of visioning. As a result people's lives will be better than a decade earlier."
With that, he smiles and makes way for the next speaker.
A Dream as a Vision – Wellness from the Inside Out
After admiring Weinzweig's Camp Bacon t-shirt, Tim State, vice president of Human Resources at Humana, tells the audience, "health is hard." He's on stage to talk about "Being Well and Doing Well," a recap of how the Louisville, Ky.-headquartered health insurer embarked on its dream – "to help people achieve lifelong well-being."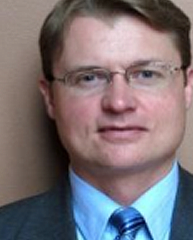 "By many measures … real health is in decline," says State. "Whether it's convenient food or our car culture, it's making health hard." He tells the audience that by 2030 one-half of U.S. adults will be obese and the CDC says chronic illnesses are becoming near epidemic. "Clearly we have to do something different." Businesses and employers, he says, "have an obligation to take action."
For the organization, doing something different to achieve its dream started on the inside. "That obligation [to take action] has a special resonance. We had to start inside our own organization. People in our organization are facing the same issues as people on the outside," says State.
By identifying a purpose – "improve the health of our communities by making it easy" — States says Humana has committed to improving the health of every community where they do business by 2020. But first, it started inside its own walls.
The building blocks were simple enough. Humana focused on four main dimensions around well-being: health, purpose, belonging and security. And what they learned is that all four were connected.
They also learned what mattered both inside and outside the organization. "Perception matters. When customers perceive that we are investing in health, then they have a better perception of company," explains State. "Purpose is primary — connect people with their purpose."
By making well-being simple and meaningful at individual and community levels, State says, Humana experienced a cultural shift among its leaders. "Leaders can now sit with associates and talk about supporting the individual well-being of that person."
The results of this inside focus on health and well-being is yielding results. State rattles off a number of employee measures: 24 percent increase in using preventive services; 7 percent more employees are volunteering; 14 percent fewer employees have elevated blood pressure.
Doing it with Michigan-Style
From a discussion of health and wellness in the workplace, the audience shifts its attention to something significantly easier to swallow – chocolate.
"Self-proclaimed hippie capitalist" Sarah Endline grew up in a small town outside of Bay City, Mich., close to her grandparents' farm. She is founder and CEO of sweetriot, a candy company in New York City. She boldly titles her session, "International Peace through Chocolate!"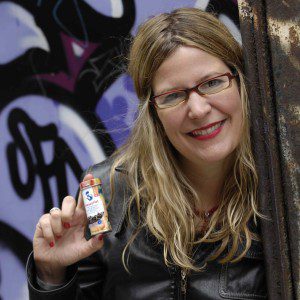 With more than 5 million units sold since starting, Endline says she created sweetriot "Michigan-style." A U-M alumna, she participated in various leadership training – even taking the visioning class at Zingtrain after being invited by Ari Weinzweig. Her vision: "create the next Ben and Jerry's, the next Body Shop – a large, world-changing company."
Everyone told her she was crazy, recounts Endline. She smiles and adds, "vision and crazy are so close." Crazy or not, Endline's success is hard to deny. sweetriot products are sold in more than 2,000 stores, including Whole Foods, and they were also the very first food product sold at the Museum of Modern Art Design Store in New York City. The firm was named in the Top 3 of Fortune's Small Business Competition, a finalist on Fast Company's 'Fast 50' list and a finalist in Entrepreneur Magazine's 'Emerging Entrepreneur' competition. Endline's entrepreneurial work has been covered by The Wall Street Journal, The New York Times, The Today Show, Forbes, Fortune, Newsweek and Business Week.
Her vision to create a world-changing company started with sourcing dark chocolate directly in Latin America and continued by using recyclable, reusable packaging which features emerging artists, and only using all-natural, healthy ingredients.
As she enthusiastically strides across the stage, she shares the lessons learned along her entrepreneurial path.
Be authentic. Endline says she treats the world like a small town… she cares about everyone and their business. "No borders, go global."
Be team oriented. sweetriot has "the right people with stock options and open book management. We are not employees we are 'rioters.' We are building community. We work hard and play hard," says the Chief Rioter.
Be socially responsible. "What does that really mean? People-products-partnerships –focus on the product and the people, which is part of the 'built in soul,'" declares Endline. She describes her discovery of what she calls the "soul of candy," which is the cacao fruit, something that is grown in developing countries. Endline was relentless in finding a partner in Latin America to provide the cacao bean.
Be relentless. Be politely persistent. Stalk [politely]. "It's a marathon not a sprint. Pace yourself. Show up. Stalk when necessary." She illustrates her point about being relentless by telling a story about how she got her products into Whole Foods – by consistently bringing sweetriot chocolate into one store in New York City. Now … sweetriot is carried nationally by the chain.
Be solutions focused. "Things will go wrong. All the time. Don't get stuck in the mud."
Be crazy [visionary]. "Don't be normal!"
Endline concludes with a slide that captures the essences of her activist candy company: sell more candy = more social change.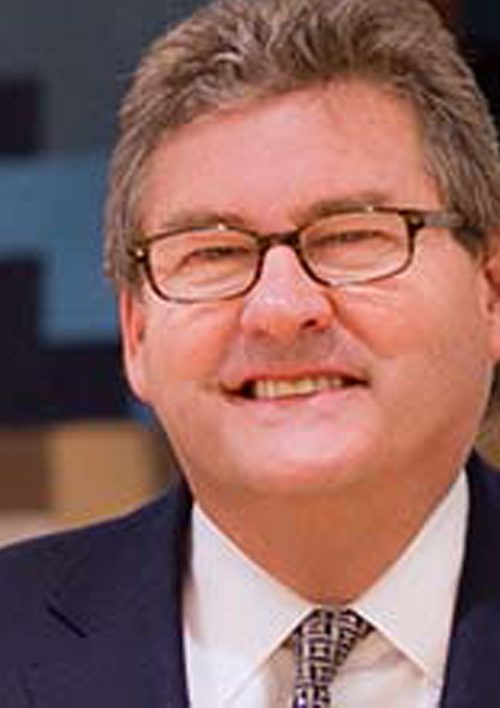 From World-Changing Products to Audacious Sustainability
Unlike the other speakers, it's clear that Dan Hendrix, chairman and CEO of Interface, is more comfortable speaking from the podium. With an easy Southern accent, Hendrix starts his session, "Audacious Sustainability Goals Drive Culture Shift and Business Success." He tells the audience about the sustainability journey of the $1 billion global manufacturer of modular commercial and residential carpet and broadloom carpet – and how it started with a simple question posed to Interface's founder Ray C. Anderson.
"Twenty-five years ago a customer asked us, what are you doing about the environment?"
At the time, Hendrix was the CFO (a position he held for 18 years), and sustainability, he admits, sounded very expensive.
"Ray challenged us to be sustainable. We had two camps– believers and nonbelievers," says Hendrix, readily declaring that he was on the side of the nonbelievers. But the believers grew and Interface became a company that was, in Hendrix's words, "trying to change the world." Hendrix, by the way, eventually came to the believer side. In fact, his mission is to ensure, among other things, that the company is a good environmental steward focused on the company's Mission Zero goal to eliminate any negative environmental footprint by the year 2020.
Mission Zero also came out of a question, explains Hendrix, who took the helm at Interface 11 years ago. "Three years ago I asked the question if our people are engaged in our mission/vision. What resulted was taking a film crew into plants around the world. We found out that we shared a common vision around what we call Mission Zero."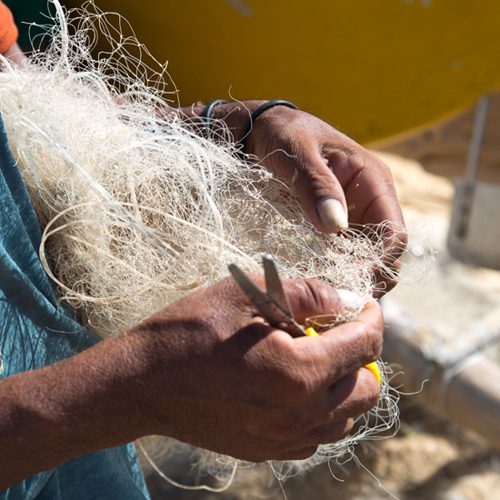 And it seems to be well on its way through projects like Net-Works. Started about two years ago, Net-Works takes discarded nylon fishing nets from impoverished countries like the Philippines and recycles them into carpet tiles. According to the Interface website, "Net-Works is the first step in creating a truly restorative loop in carpet tile production, cleaning up oceans and beaches while also creating financial opportunities for some of the poorest people in the world."
After showing a video about Net-Works, Hendrix tells the audience that it was actually a second try at sustainability – the first project didn't work. Hendrix says of the experience, "If you give people permission to pursue and fail — you will get more innovation."
What makes for great business, says Hendrix, all comes down to "the power of a question – what if you opened yourself up to inquiry? Open your company up to the power of a new idea."
From visioning to workplace wellness to chocolate to carpet tiles, audience members got a glimpse into very diverse styles of business leadership – but all with a positive end result.
The Positive Business Conference at University of Michigan's Ross School of Business featured C-level executives from companies including Whole Foods Market, Ford and Procter & Gamble who took the stage to share the most inspiring and practical positive business practices in place at their organizations. The conference was complemented by presentations and workshops made by a number of academics, many of them Ross faculty. Corp! magazine was a media sponsor.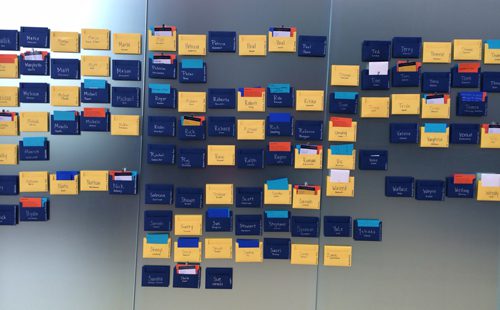 A Sweet Take on Business Appreciation
A colorful wall of maize and blue envelopes presented a new twist on making connections at events like the Positive Business Conference, presented by University of Michigan's Ross School of Business on May 15-17, 2014. Called "Sugar Cubes," the envelopes on the wall, each with an attendee's name on it, provided a way to "show our gratitude and appreciation for one another." Attendees were instructed to, "write someone a positive note, and drop it in their Sugar Cube for them to read later. They'll do the same for you."