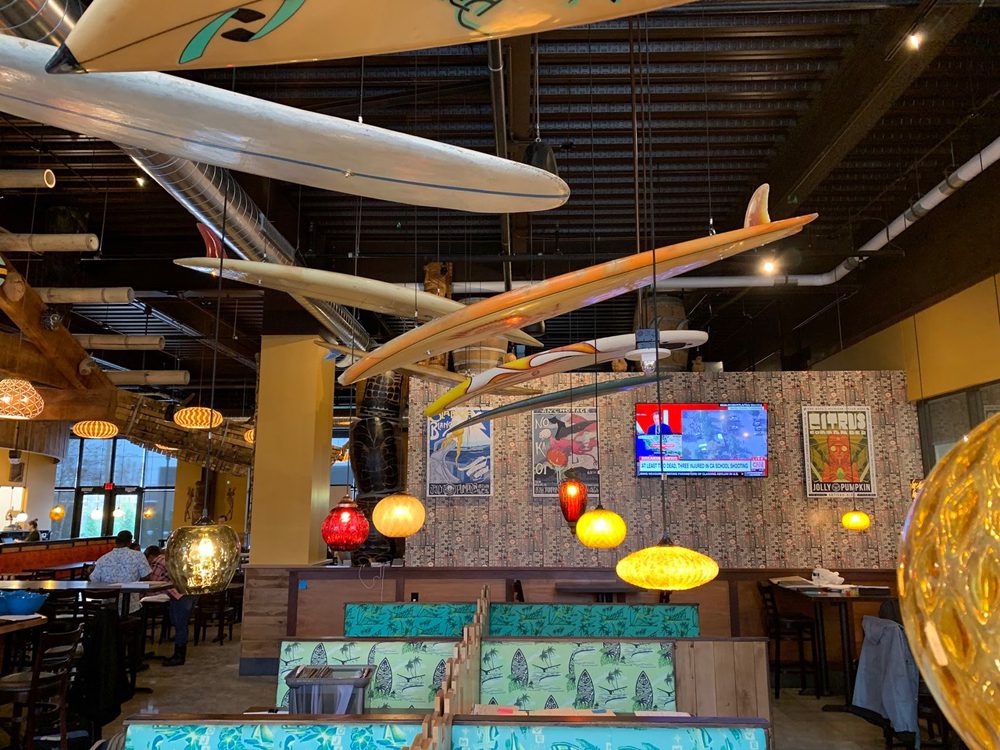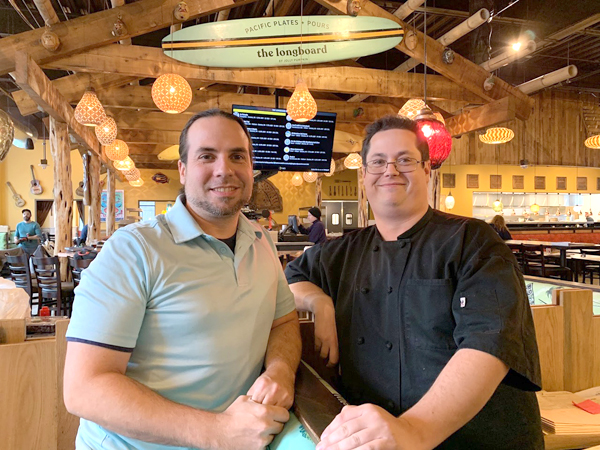 Something about Hawaii and the Pacific Coast has always stuck with Ron Jeffries, founder of Jolly Pumpkin, the all sour-beer Michigan-based brewery. Think tiki drinks, Polynesian art and lots of exotic flavors.
Recently, Jeffries gave into his longing for the tropics with a new restaurant concept. The Longboard by Jolly Pumpkin is the newest offering by the founders of Jolly Pumpkin Artisan Ales.
The Longboard by Jolly Pumpkin highlights West Coast charm and surf culture. The interior transports visitors to the Pacific with wild Tiki patterns, bamboo, surf boards, splashes of fish and wildlife and even a canoe that spans across the dining room ceiling.
It also features a vast kitchen, in-house brewing, open dining, an expansive 25-seat bar and private dining room. Come Spring 2020, the restaurant will debut two outdoor patios, one of which is connected to the private dining room.
The restaurant has more than 8,000 square feet in a suite in downtown Dearborn's newly-built Wagner Place. It is set to be one of seven restaurants and retail establishments coming into the building, which houses more than 600 Ford Motor Co. employees.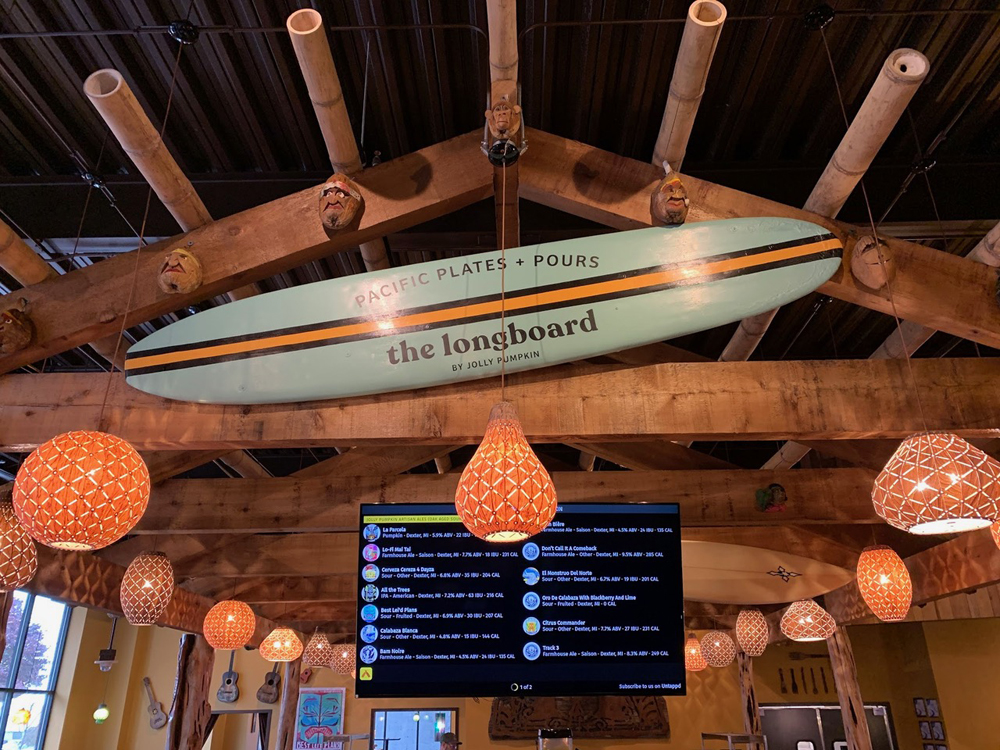 Restaurant evolution
"The Longboard concept is meant to be an experiential brand extension for Jolly Pumpkin," said Tony Grant, CEO and CFO of Northern United Brewing Company, which owns the Jolly Pumpkin restaurants. "It digs deeper into the 'Hawaiian time,' relaxed, not-too-serious aspect of the brand that Ron and Laurie Jeffries created.
"Don't get me wrong we are still serious about our beer, beverage and culinary experience. That will be evident, not only visually in the space, but through the menu, too. Customers will be surprised and delighted. With this evolution, we invite our guests to take a new journey and experience a fresh menu designed to reflect the sun and surf side of Jolly Pumpkin."
General Manager John Elwell moved to Michigan from Myrtle Beach, South Carolina to help create the atmosphere for The Longboard by Jolly Pumpkin. He said he's working to make it "a fun, laidback atmosphere focused on dishes inspired by the West Coast and Pacific Islands."
West Coast vibe
The Longboard by Jolly Pumpkin menu has been crafted by Executive Chef Dan Gawura. He was able to express his creativity in offering dishes inspired by Hawaiian and Pacific travels.
"My vision is to create a unique experience," he said. "We want it to be very approachable and casual."
Gawura's menu will include an array of items with a West Coast vibe – filled with poke, Mahi tacos, Hawaiian pizza and other island favorites. Fans of the Jolly Pumpkin brand will recognize a few signature dishes – like Truffle Fries and the Perfect Fried Chicken Sandwich – on the menu of shareables, bowls, tacos, sandwiches, pizza and salads. Desserts range from Kona Coffee Pot De Crème to Pineapple Upside Down Cake.
The bar will offer beer selection by Jolly Pumpkin Artisan Ales and non-sour options by North Peak beers exclusively. Both brands are brewed by Ron Jeffries in Dexter, Mich. Getting into the island vibe, signature Tiki drinks, frozen cocktails and a Mai Tai will be among the drink list, all featuring Civilized and Old Mission Spirits.