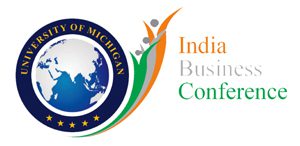 Business and government leaders from around the world gathered near the end of March for this year's India Business Conference (IBC) to discuss the opportunities of doing business globally.
The two-day event took place on March 24 and 25, 2017 at the University of Michigan Ross School of Business and offered attendees the chance to gain invaluable insight on doing business both in, and with, India. Discussing the challenges and opportunities were experts from all walks of life.
Hundreds of students and professionals came to get guidance and knowledge from this event, taking advantage of the wide range of topics.
Inspired by the late Professor C. K. Prahalad, this was the eighth IBC at the University of Michigan's Ross School of Business and is recognized as one of the leading business-school conferences focused on India.
This year's theme was "Incredible India, Inclusive India." Event organizers said the conference focused on the excitement and opportunity found in India's changing economy, as well as the challenges currently faced in today's global environment. Bolstered by an enlightening list of speakers, IBC included leaders from both large corporations and growing businesses.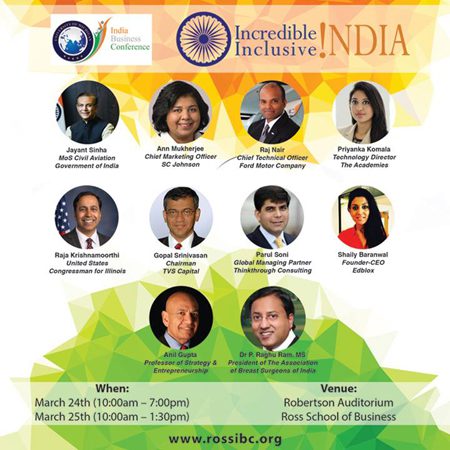 Many knowledgeable leaders came to share knowledge with the conference goers. Highlighted among the star-studded agenda was Jayant Sinha, a Minister of Civil Aviation for the Government of India, who provided the opening keynote. The event also featured United States Congressman for Illinois, Raja Krishnomoorthi and Executive Vice President of Product Development at Ford Motor Company Raj Nair.
Some of the other speakers included Ann Mukherjee, SC Johnson; Priyanka Komala, The Academies; Gopal Srinivasan, TVS Capital; Parul Soni, Thinkthrough Consulting; Shaily Baranwal,Edblox; U-M Professor Anil Gupta, and Dr. P. Raghu Ram, MS, The Association of Breast Surgeons of India.
The conference featured a number of engaging and informative panels, including advice in marketing, funding, and starting a business. Panelists discussed important, timely issues like social impact and women in business.
Each panel was moderated by a professor, and student volunteers were there to provide whatever assistance was needed.
Faculty advisors included Gautam Ahuja and M.S. Krishnan.
The afternoon before the conference, the C.K. Prahalad Case Challenge Finals were held in a Ross classroom. The winners were announced during the conference in between Raj Nair's panel on innovation and a Fireside Chat with Professor Anil Gupta and Ramesh Mangaleswaran of McKinsey & Co.
At the end of an action packed day on March 24, conference goers were invited to a Networking Reception in the Robertson Lobby, where they could use the inspiration gathered from the speakers and put it to good use.